Donna Brooke is stoked to be doing two of the coolest jobs (if you could call them that!) in the world – a B&B owner and a marriage celebrant. Is there one she loves more?
"Both roles are different, but complement each other so well," says Donna. "The skill sets required are similar in terms of people management, but they are both distinct parts of my life that I thoroughly enjoy. No favourites here!"
Donna began her career in the hospitality industry with The Regent Hotel in Auckland. "One of the stand-out learnings for me from those early days in the industry was to always say 'yes'. If it was legally and morally acceptable, it was our job to make sure the guest got what they wanted. No questions asked."
"This stands true even today."
Donna swapped her 'corporate' hospitality career to a more relaxed B&B owner after her marketing and sales directorship role at The Carlton and a few other jobs in between.
Now, along with husband Chris, Donna welcomes swarms of guests into her luxury B&B – Sunlover Retreat – in Tairua on The Coromandel, a popular coastal region in New Zealand.
"I love showing guests our beautiful country, especially our neck of the woods," says Donna. "Guests just love it! They're always on a high, and that in turn keeps us going."
Some of the funniest and most memorable moments in life have come from being a B&B owner for Donna.
"When you have people living in your home, you have many more opportunities to find out about them and their quirks!" says Donna.
"We've spent a most amazing night drinking and watching the DVD of a guest who was a bull rider in UK. Another time we had an Australian soldier and tango dancer who waltzed around the house shirtless, showing off his toned body. Of course, our English guests at the time were not as impressed! We've even had a healer stay with us who worked on our dog through me."
"Most breakfasts at our place are filled with laughter as well as the food.  We love to hear our guests' stories and share our own. The ability to laugh and joke about your own cultures is a real must!" says Donna on life as a B&B owner.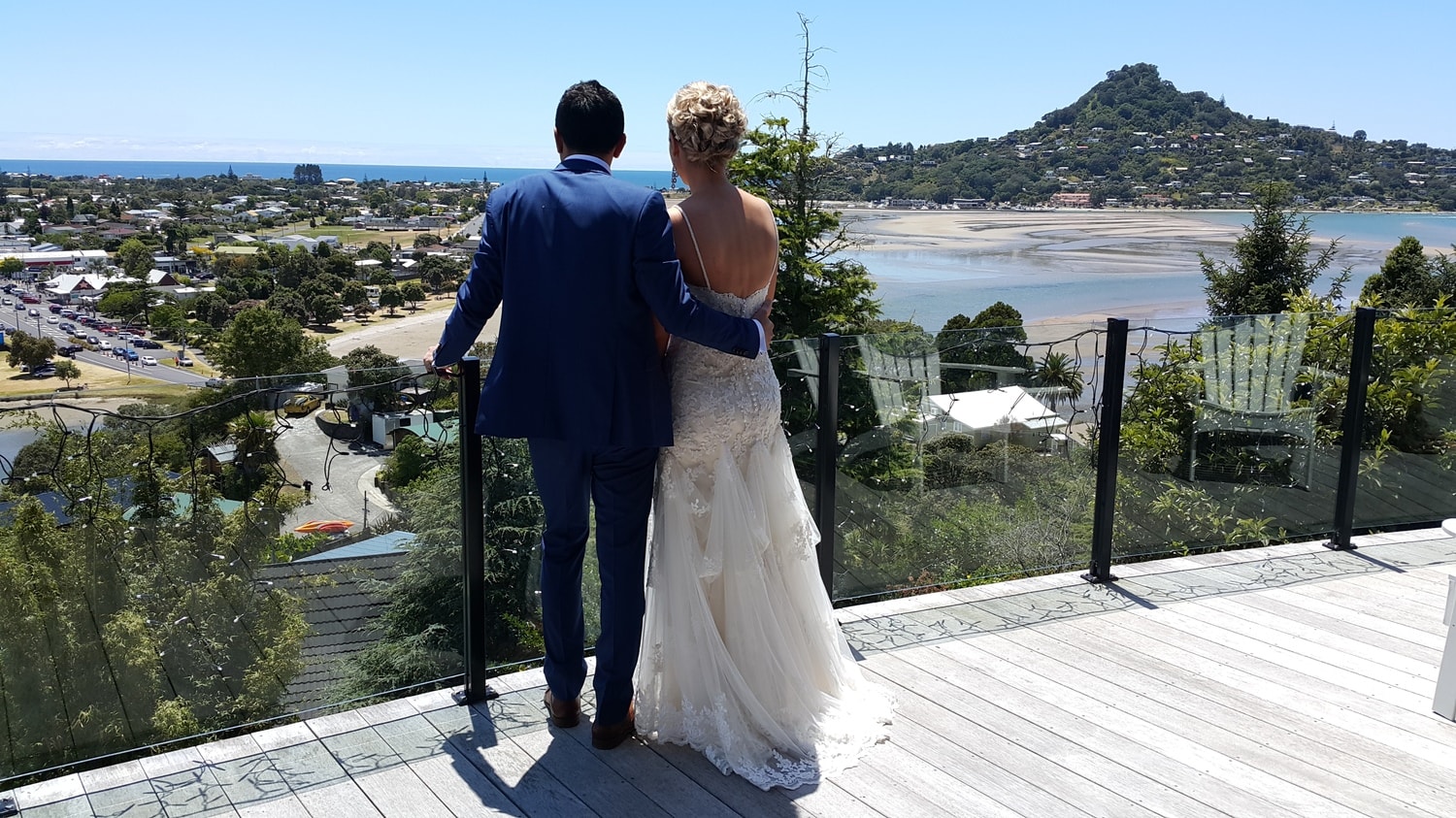 As if her days, especially summer, were not busy enough, Donna signed on to become a celebrant. 50 weddings later, Donna loves this role as much as that of a B&B owner.
"I was asked by a friend to be a celebrant at his wedding. I enjoyed it so much that I decided to get registered."
Much like hospitality, Donna enjoys the fact that she gets to meet people from all walks of life, each with a story that is different. Every ceremony is unique, celebrating the couple's individuality.
"I have had couples turn up on paddle boards. Kids always add another dimension to a wedding and same sex marriages are another beautiful celebration of love."
Donna is also involved with elopements, which has been a turning point for her as a celebrant and a way to add a unique hospitality dimension to it; "a perfect blend of B&B and being a celebrant".
"We have introduced elopement packages for couples who decide to get married on their own sans the stress of finances. It includes photography, hair, make-up, flowers and ceremony. It is also a time for us to get out the old 1959 Mercedes and decorate it up to take the bride to the beach.  So much fun!"
Juggling her two roles, summer fun takes a different dimension and there is not much relaxation, but she wouldn't have it any other way. "During busy times, I squeeze in some girlfriend coffee-catch ups and go for long walks on the beach with the dog. That keeps me 'guest-fit, whether in celebrant mode or as a B&B host."
---
Donna Brooke's story is part of our series of blogs on hoteliers in different roles. She operates Sunlover Retreat in Tairua, New Zealand. Do you know of a hotelier who should be featured in this series – people who push boundaries or have a passion that everyone should know about? Email us at marketing@staah.com.