With a bag full of experience in the tech and hospitality industry, Meet Pete Bejraksa, Senior Business Development Manager, STAAH Thailand.
---
Tell us a bit about your career in hospitality/ technology and the journey to STAAH
I hold a Master's degree in Information Technology therefore after graduation, I started exploring my world with the Tech Companies from Start-Up to big corporations, including Hardware to Software, B2B to B2C, and ended up with Tech for Hospitality with my beloved STAAH now.
Before joining STAAH Thailand,  10 years back, I worked with Inspire Venture, a company that creates, launches, and operates businesses for solving and filling unique value-chain gaps faced by Southeast Asia businesses and consumers.
I  have also worked with 2 other companies (Promandate and Tapsey). After that, I explored my career in Boost Thailand where I always worked closely with Hotel owners and hotel chains.
I always found myself enjoying working with the hospitality industry and it led me to join STAAH Thailand as a Senior Business Development Manager.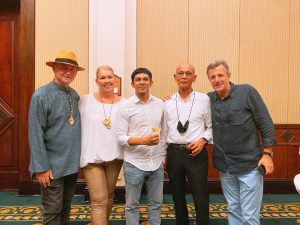 What do you like most about STAAH and your job?
I have fallen in love with the Hospitality Industry. The job gets me to associate with hoteliers, travel around and experience the beautiful, well-decorated properties, being surrounded by smiling faces. I love people's behaviour in our industry. I enjoy myself when I offer our customers various technology solutions from STAAH.
Revenue management is the key for the accommodation providers, post Covid19 and I feel like I work at the right place where I can assist Thailand's major industry to have a better tomorrow.
Your success mantra?
My success mantra is having the right balance between mind, body, and soul. Finding the way to a sense of well being. Encouraging awareness of how we move through our day. Live better, work better.
Your interests outside STAAH. Do they help you do your job better?
I like to spend my free time with friends in the Travel and hospitality industry. The best part about being connected to this industry is; we can work, travel, eat, and have fun at the same time. Visiting a cool hotel is also a great idea. Yes, it helps me to work better.
---
If you are a Thai based accommodation provider looking for a perfect solution to increase your online reach and direct bookings feel free to get in touch with Pete Bejraksa at pete@staah.com
Address
STAAH Holdings Limited
1202, 12A Floor, Siam Piwat Tower
989 Rama I Road, Pathumwan, Bangkok
10330, Thailand