Tourism New Zealand is helping Kiwis take the mystery out of finding the perfect gifts for their loved ones with the launch of its new Gifting

Hub

 on NewZealand.com. 

 

 
---
Enabling Kiwis to skip the pre-Christmas rush, giving a gift that will mean as much to them as they do to you is as simple as scrolling through the Hub this holiday. Home to more than 300 incredible experiences that are available across the country, it's a treasure trove of ideas that are ready to be gifted to your nearest and dearest to enjoy. 
After a challenging year, it has been created as part of Tourism New Zealand's efforts to help Kiwis do something new this summer and create unforgettable memories.   
Perfect for finding something with a little more meaning, the Gifting Hub enables Kiwis to easily give friends and whānau experiences on their bucket list, create special moments that last a lifetime and gift something that's guaranteed to go under the tree on time for the 25th December, while supporting the tourism sector.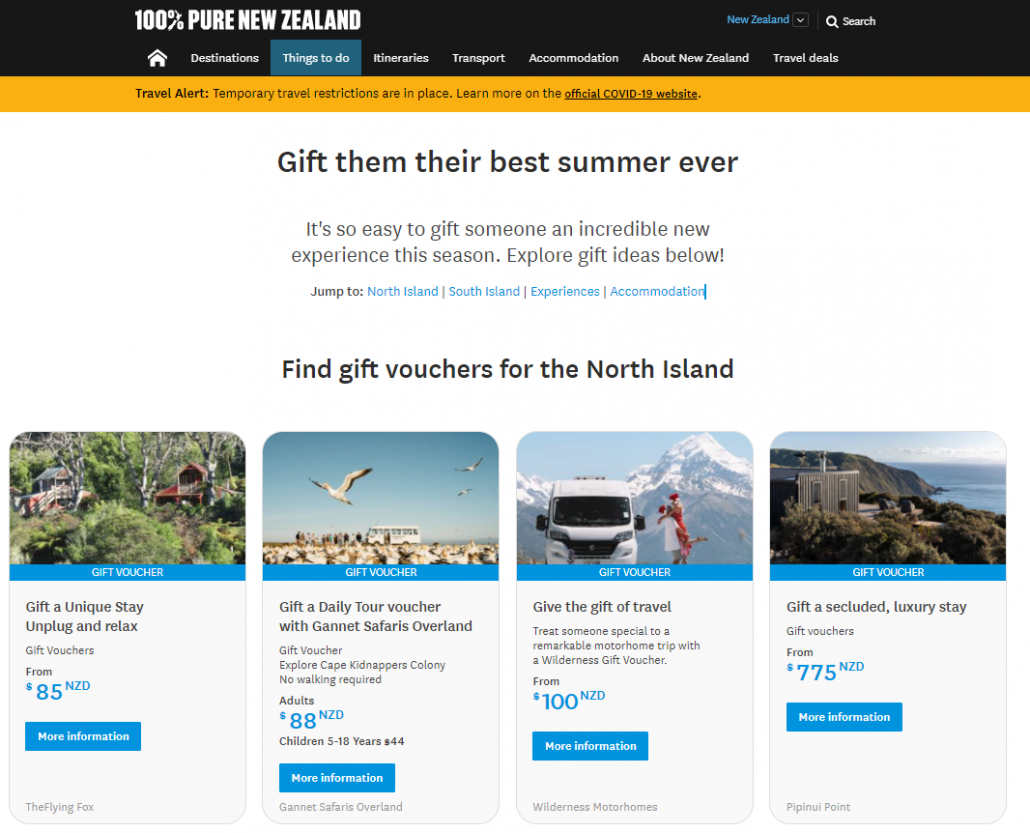 The Gifting Hub exclusively features experiences and tourism operators that offer gift vouchers, so that your loved ones will be able to take up their present at their convenience. The majority of vouchers are valid for at least 12 months, with some even remaining valid for up to three years. 
Visit the Gifting Hub here  
---
Tourism New Zealand is responsible for marketing New Zealand as an international and domestic visitor destination.   We believe that tourism needs to contribute more to New Zealand than it takes. Tourism must create jobs, restore nature, enhance our heritage, build our national reputation and make us proud. It must inspire and enable us to celebrate who we are, our unique people and place. Our purpose is to enrich New Zealand by maximising the contribution of visitors, we deliver this by maximising the impact domestic and international visitors have across the four well beings of nature, society, culture and the economy.
---
If you are a STAAH customer and would like to get listed on the Gifting Hub click here