"Our reservations from OTAs are up by an incredible 150% since we started using STAAH," said Mr Moh. Iqbal Biki E-Commerce Manager "And this is a great achievement for us given our rapidly growing market and competitors."

Kusuma Agrowisata Resort & Convention Hotel is a 157-room property located in the city of Batu – Malang, East Java in Indonesia. Surrounded by stunning mountain views, agricultural land and overlooking the town, the resort features top-of-the-line facilities, including a swimming pool, fitness center, spa and an adventure arena. The all-encompassing property is attractive to business (conferences and meetings) and leisure travellers, both in Indonesia and overseas markets.
The property started using STAAH's Instant Channel Manager in December 2016, driven by the need to improve and optimise its online revenue. The top-selling product helped Kusuma Agrovista Resort & Convention resolve disparity in room tariffs and revenue calculations. It also helped the team gain time and revenue efficiency.

"Following the integration of STAAH, the management of the ordering process becomes very simple, so the Kusuma Agrowisata team is focused on developing their online channels," says Mr Moh. Iqbal Biki. He is particularly appreciative of the intuitive dashboard and powerful reports "They are great bonuses and give us a quick overview of online profits on demand."
Another advantage of STAAH for Kusuma Agrowisata is the cost. "The price is very affordable and the support excellent. The local team is knowledgeable, fast and very responsive," says Mr. Moh. Iqbal Biki.
All factors put together, STAAH has been very effective and efficient in placing Kusuma Agrowisata Resort & Convention Hotel on the path to online success. "While some improvements will be useful, we definitely recommend STAAH to properties that want to grow online sales," says Mr. Moh. Iqbal Biki.
Kusuma Agrowisata Resort & Convention Hotel is part of Group Kusuma Agrowisata, which operates various agro businesses and attractions in the region, including a garden tour, edupark, the biggest coffee plantation in the country and much more.

---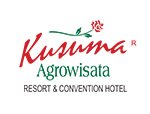 Kusuma Agrowisata Resort and Convention is a 45-minute drive from Malang City and Abdulrahman Saleh Airport. Surabaya City is a 2-hour drive away. Guests can go on a horse-riding trip or head for a relaxing massage. Luggage storage is available at the 24-hour front desk.