Google's Free Booking links  – Get Google helps you appear below-paid ads on Google hotel search. Boosting your online reach and driving direct bookings.
---
What is Get Google (Free Booking Links)?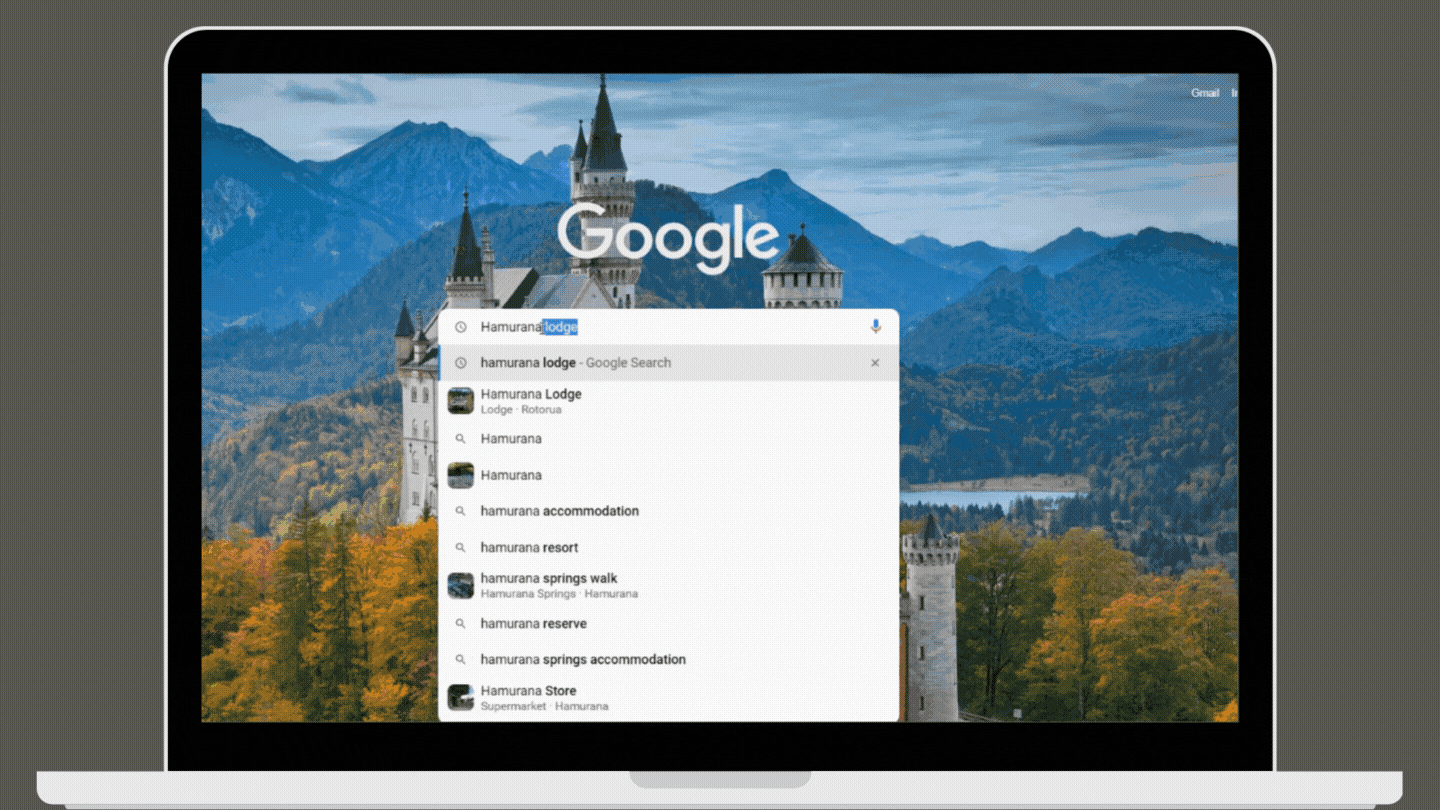 STAAH's direct connection with Google, pushes availability and rates in real-time and helps you compete for a higher share of commission-free direct bookings.
Your rates and availability will be visible on the first page of google search along with other channels. This feature is available only for STAAH Booking Engine customers and can be enabled from the extranet.
---
What are the key benefits?
Increase commission-free direct bookings
Attract online potential guests to your website
Aim direct conversion
Push Real-time rates
Appear on the first page of Google search
---
How can you enable it?
This feature can be enabled for the STAAH Booking Engine customers on the extranet ( you must be also using STAAH channel manager) :
You must have a Booking Engine with STAAH
The property must be listed on Google My Business with a map
Property name and address setup in STAAH should match with the set up in Google My Business
In your STAAH extranet, you will see a Get Google sign like below

Step 1: Click on Sign up
Step 2: Read and Accept T&Cs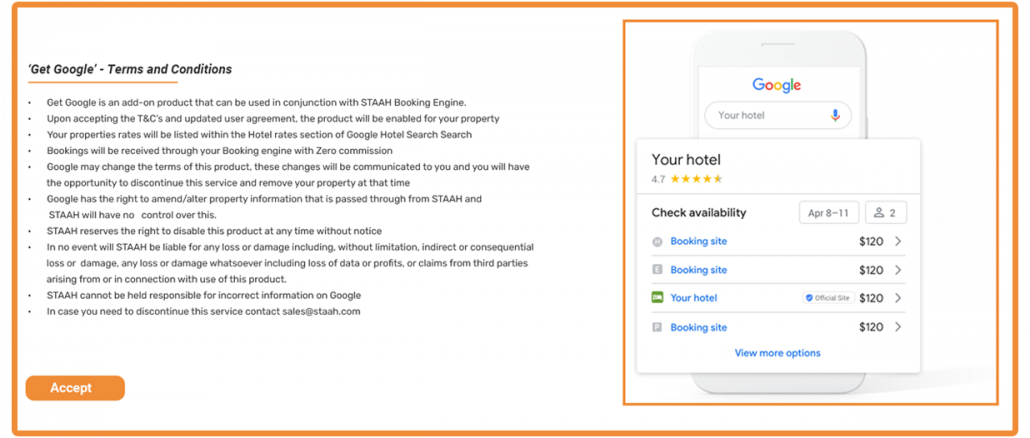 Step 3: You will receive a confirmation message.
Activation Duration: Google picks it up approximately 7 days after the product is enabled.
Fee: The fee is $50 USD. There is no set-up fee. After enabling it, it will be added to your usual monthly billing.
---
What is Google My Business?
Google My Business is a free and easy-to-use tool for businesses and organizations to manage their online presence across Google, including Search and Maps. It is critical to help guests find your hotel.
---
Why should hotels care about Google My Business?
There are many reasons why you should spend time optimising your Google My Business listing. Here are a few:
·      Whether you're looking for foot traffic or web traffic, Google is the ultimate search referrer. A Google My Business account ensures that when someone looks your company up on Google Search and Google Maps, they find it. Once they do, your listing shows searches where and how to visit your hotel, whether you have a web or physical address.
·      A Google My Business listing is important for you to optimise for local SEO, ensuring your business (including website) shows up in search results when users search for hotels like yours in your location.
·      Your Google My Business provides guests with important information about your business, including services, contact details, operation times, rates etc. Keeping this information updated is critical, especially as COVID-19 is causing hotels to frequently update their operation status.
·      Did you know customers are 70% more likely to visit a business with a Google My Business listing? It is a great way to establish trust and authority with guests.
Find out an indepth guide to Google My Business here
---
How does the Display work?
Pricing, click-through rates and landing experience have been identified as indicators that will be used to rank properties in the available spots for chosen keywords.
Your property's listing will be displayed similar to the below image.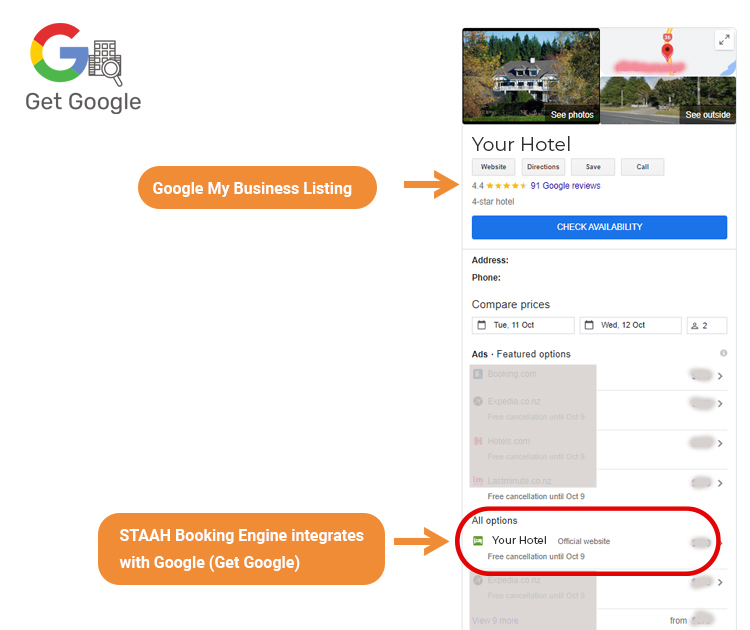 ---
How do the Bookings show in your STAAH Extranet?
Indicated under the POS (Point Of Sale) tab, It says Google Listing.
You can pull out further stats from the Booking report and Channel Insights.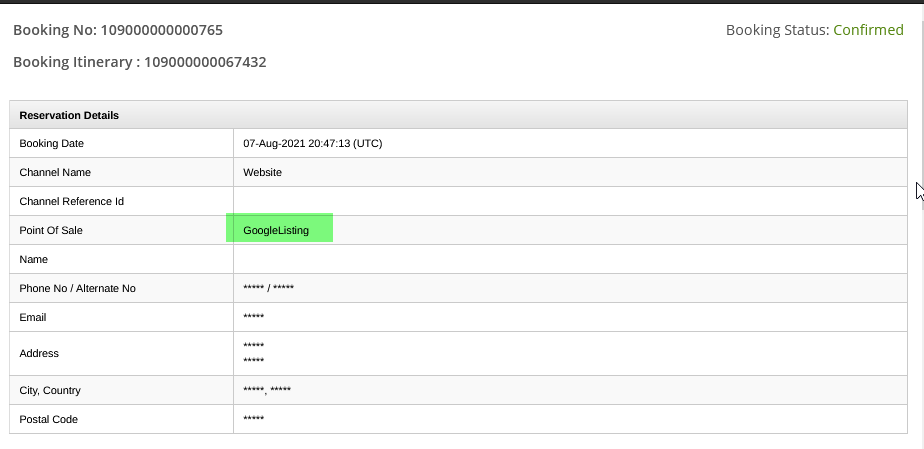 ---
If you would like to use this feature, Sign up for Get Google here 
---
Need more convincing? Read our latest success story from a STAAH Client who saw bookings after using Get Google Read here