Mastering the art of finding and using keywords will not just help you benefit from search engine traffic, but also help you to get to understand your customers better.
---
Start by Creating Buckets of Broad Topics, Then 'Niche' Them Down
What are the most important topics to your business? For hoteliers, travel, hotels, and similar group words must be included. Other topics to consider based on your property type are skiing (if you're a ski resort), backpacking, location-based topics, etc.
Once you've identified these broad topics of interest, start filling them with keywords.
"[City name] hotels" or "hotels in [city names]" are the first keywords that come to mind. These 'seed keywords' and are a good start.
But, these are also terms that are generally most competitive. So you need to find niche topics that are closely linked to your business. These are more specific than the broad keywords you start out with. Example – Auckland hotels with spas or Pet-friendly hotels Mumbai airport. These are your long-tail keywords. Typically the traffic volume is low, but the click-throughs are more 'qualified'.
Niche topics are a great way to find keywords that are less competitive, yet of interest to your customer and linked to your business (hotels). Eg. Places to see in Auckland CBD. This would be a good subject for a property owner in Auckland CBD.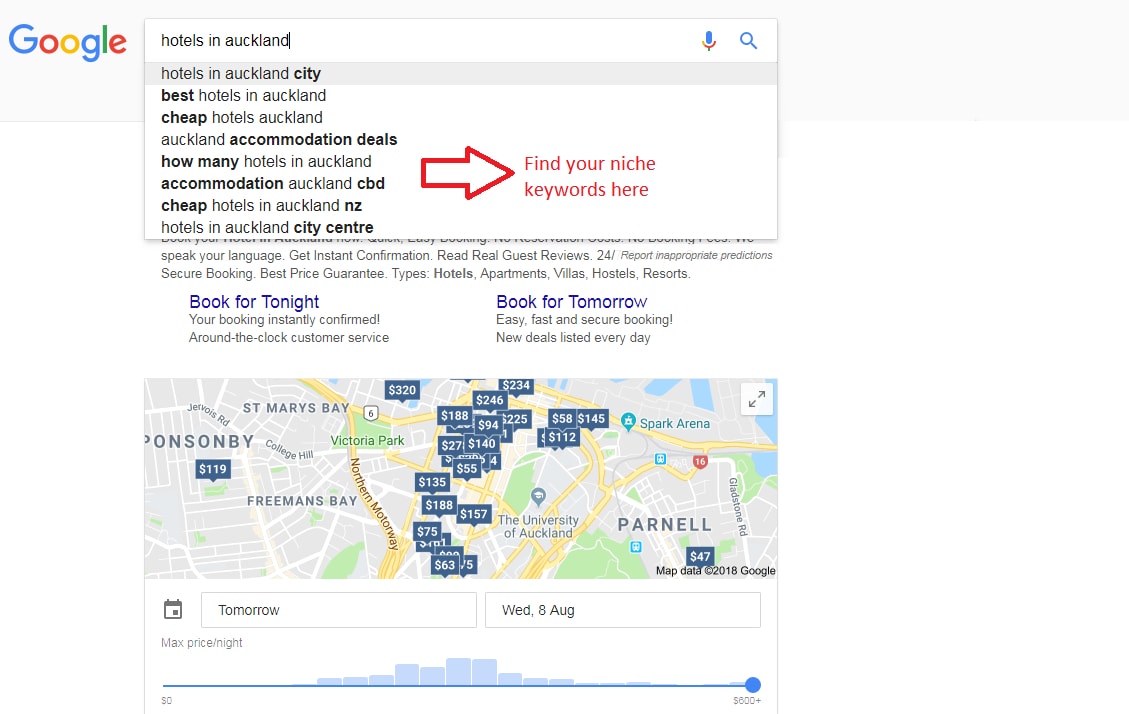 When deciding on niche topics, try and think out of the box. For example if you're in a location known for cycling, try to capture those keywords. Or if you're targeting business travellers, target content link to business travel tips.
Now, Let's Find the Keywords
Start with doing an audit of the keywords you're ranking for – what words and phrases are you already getting traffic from?
Next look at the keywords you're ranking for but have a very low click through – is there scope at your end to improve these? If the intent is correct, some tweaking of your meta description may encourage more users to click through.
What is your competition ranking for? We're not saying copy those keywords, but take that as a guide to create your own list of keywords. There would be many keywords that overlap between your competition and you – make sure you optimise your pages well enough to rank here too.
Look for related keywords. These are the auto prompt keywords or phrases that the search engine shows below the search bar or at the bottom of the page – a goldmine really that most people skip.
Things to Keep in Mind When Choosing Keywords
Many metrics, intent, your business goals and budget come into play when deciding which keywords to gun for. Needless to say, you can't rank for everything!
Search intent: Looking at your list of keywords, try to envision what type of content you would create to rank for that keyword. If you can't fulfill searcher intent you probably shouldn't target that keyword. For instance if you're a backpacking accommodation, you are very unlikely rank for a keyword like '4-star accommodation' – it's a complete audience mismatch.
To understand intent, it also helps to break down your keywords into groups such as awareness, consideration and action (a  typical search/ sales funnel for hotels). 'Things to do in New Zealand' would be in the awareness segment (the dream place). 'Top places to stay in Auckland' is a consideration stage – the user is probably ready to look at options. 'Hotels near Auckland airport' or 'Auckland hotel deals' are action keywords – users here are more likely to be ready to book.
The keywords you target should have a balance across all intents.
Search volume: This shows you the volume of searches for that keyword – or the demand. Remember these are also keywords that are harder to rank for. Eg. Hotels in New Delhi. You can get keyword volumes from your chosen SEO tools (suggested below). Google Keyword Planner is the biggest source of data for these tools.
Keyword difficulty: How likely are you to rank for a keyword is defined as keyword difficulty? For instance as a small property in Rotorua, you may not be able to outrank newzealand.com (an authoritative website) on a keyword like 'Top things to do in New Zealand'.
Unquestionably, the best possible way to gauge the ranking difficulty of a keyword is to manually analyze the search results and use your SEO experience (and gut feeling).
Head, body and tail: Keywords are typically broken into these three primary categories. Head are single word keywords that are high volume and very competitive. Conversion from these keywords could be lower. Body type keywords typically have 2-3 words and are lesser volume than head, but better conversion, although competition for them is still high. The tail (or long tail keywords) are the missed opportunities in most segments. These are 4+ word phrases with low competition and low volume but high conversion. Eg. 'Rotorua motel with spa and pet friendly' – the user knows exactly what he or she is looking for.
A winning SEO strategy always features a healthy list of all three types of keywords to drive conversions.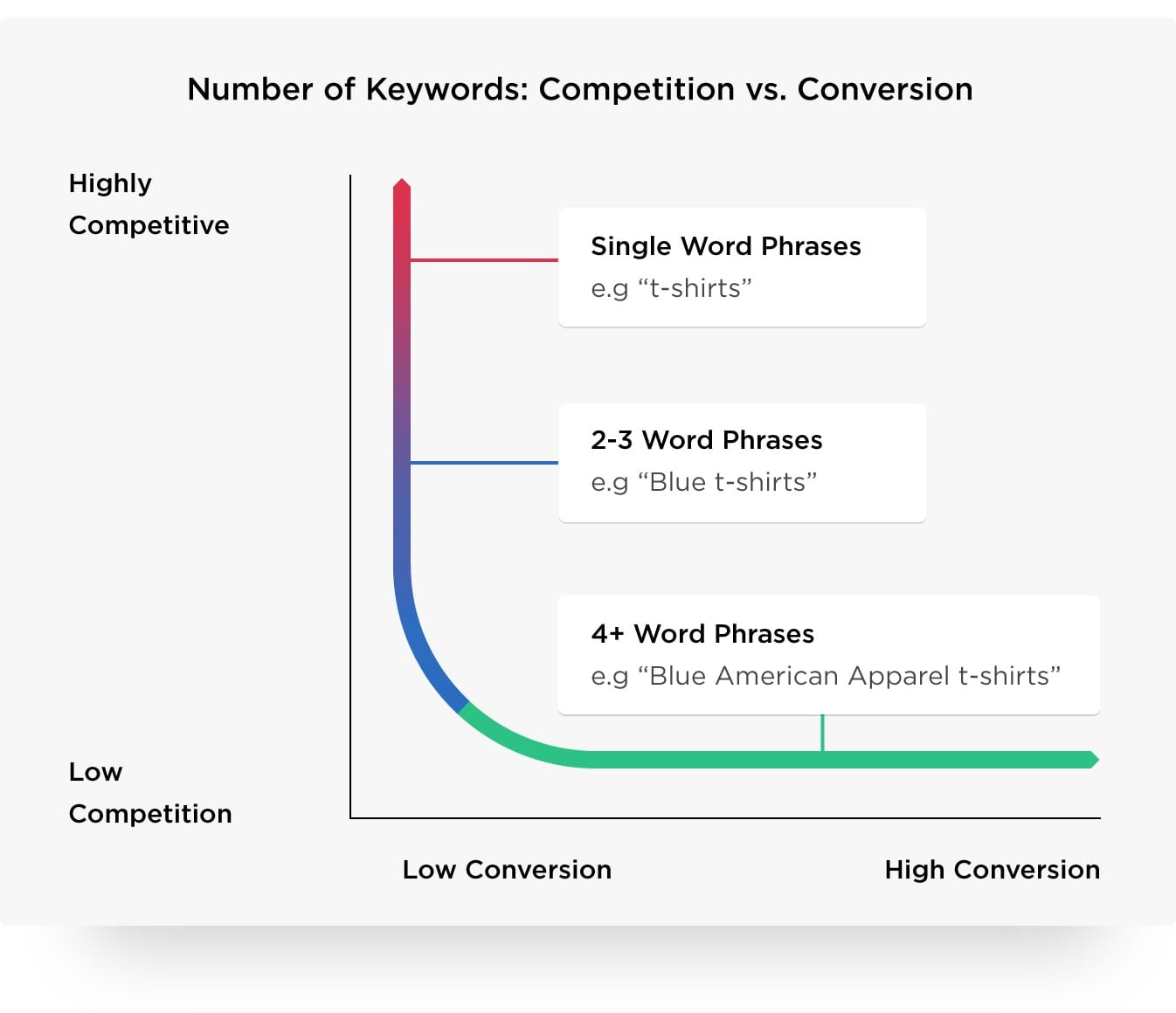 Keyword grouping: To bring structure into the keyword list you've compiled, group them into meaningful categories. This will allow you to create strategy per group. You can do it by intent (where in the purchase funnel are your users?). Or break it into travel type (business, leisure, family).
You can turn to Google Keyword Planner to help you group, but this is a generic guide, not tailored to your business needs.
Once you've grouped, prioritise based on business value. Remember, you cannot rank for everything at the same time.
The Tools: Your Go to Places for Research
Google tools: These are free and absolutely essential to include in your research kit – even if you have other tools that you rely on.
Google Search Console  (previously known as Google Webmasters Tool) is your go to place to see how Google is viewing your website. It gives you technical performance and issues. This is where you upload your sitemap and of course view which keywords you are ranking for and top pages.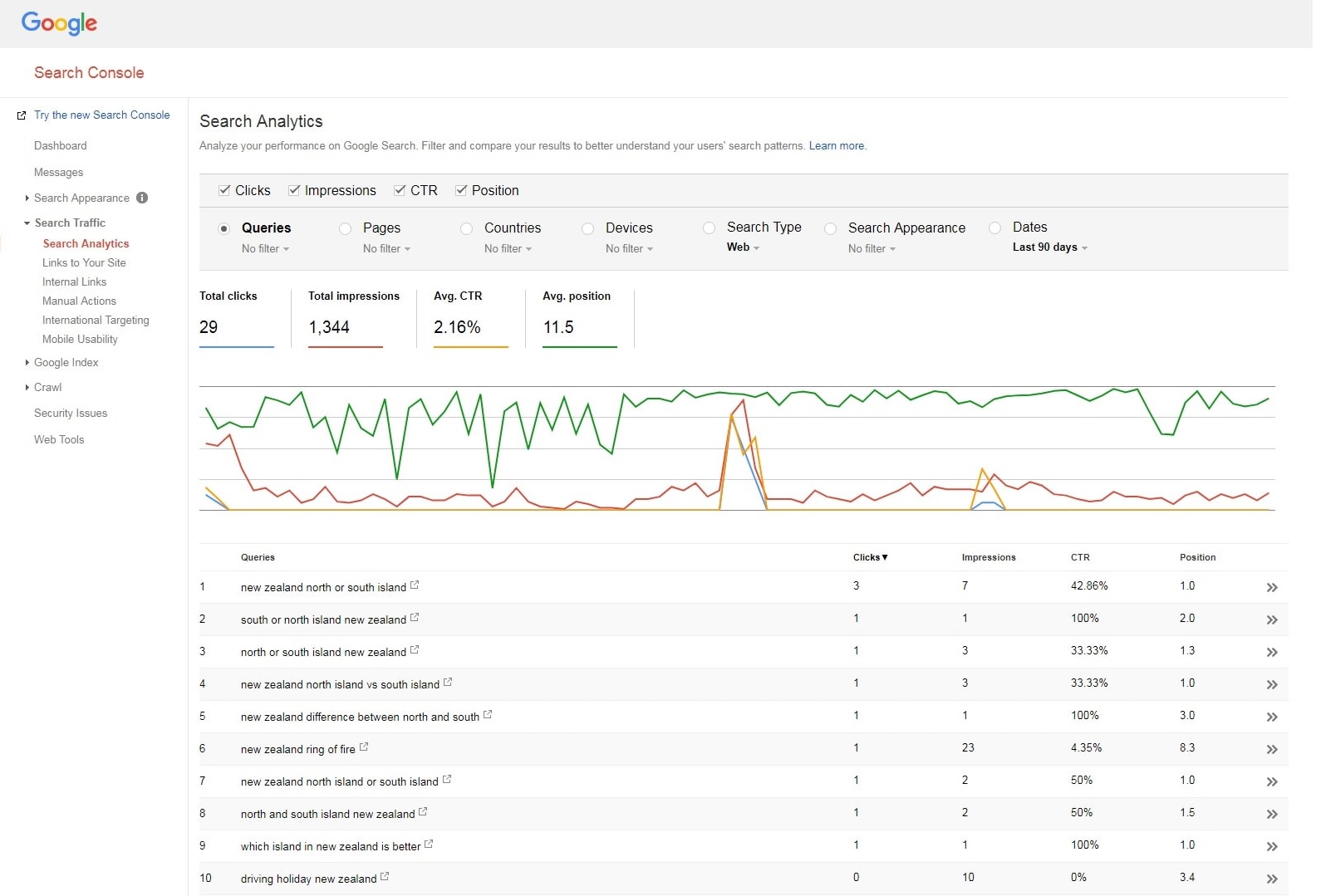 Combine this with Google Analytics and you should be able to piece together your performance in the search space quite well.
Google Keyword Planner is a tool to help you search for keywords and volumes. You will need to set up an AdWords account to access it. The planner lists out historical data and cost per click, so a good place to estimate keyword difficulty.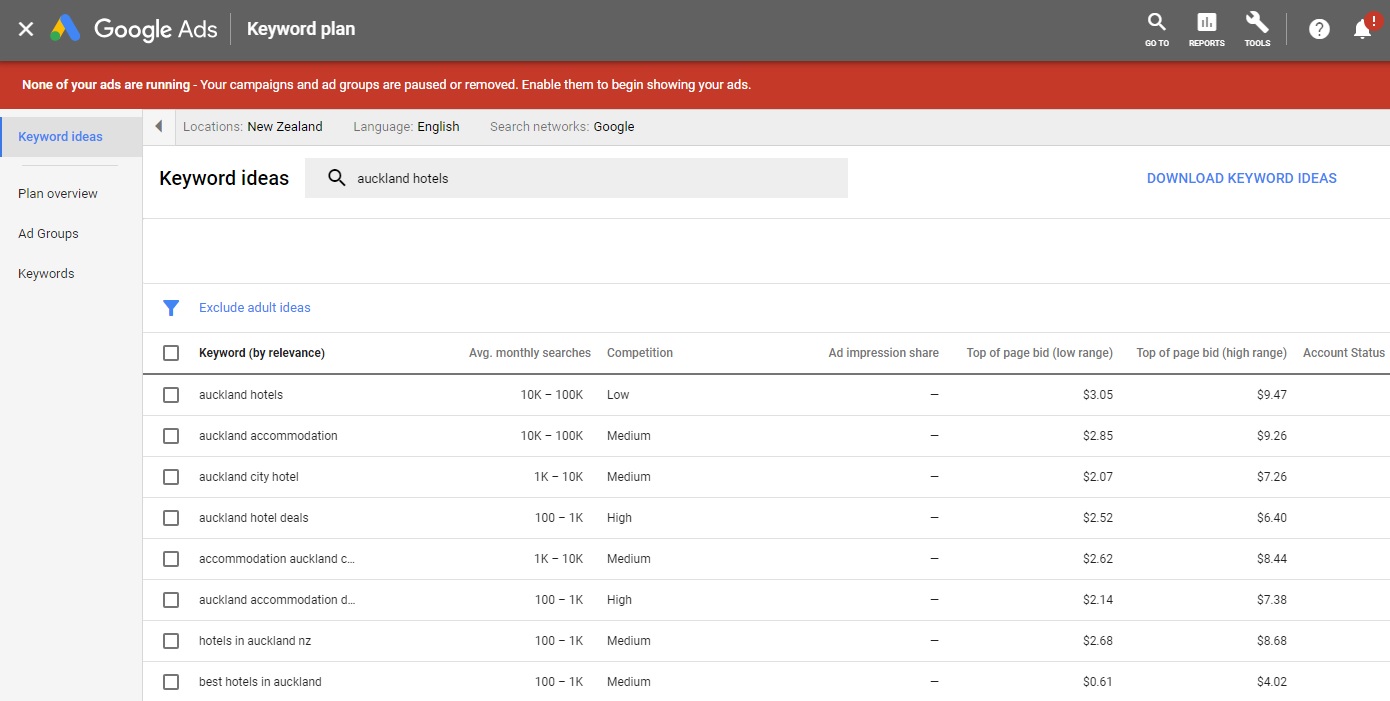 Other Google tools to use are Google Trends and Google Suggest. In addition to these tools, one can also check out the "Searches related to" section beneath the search results for their generic keywords. It's a great way to find some good long tail keywords.
SEMRush: A paid tool, but very useful to plan keywords. It shows you keywords your competition already ranks for – many of which can be out of the box and difficult to find using other tools.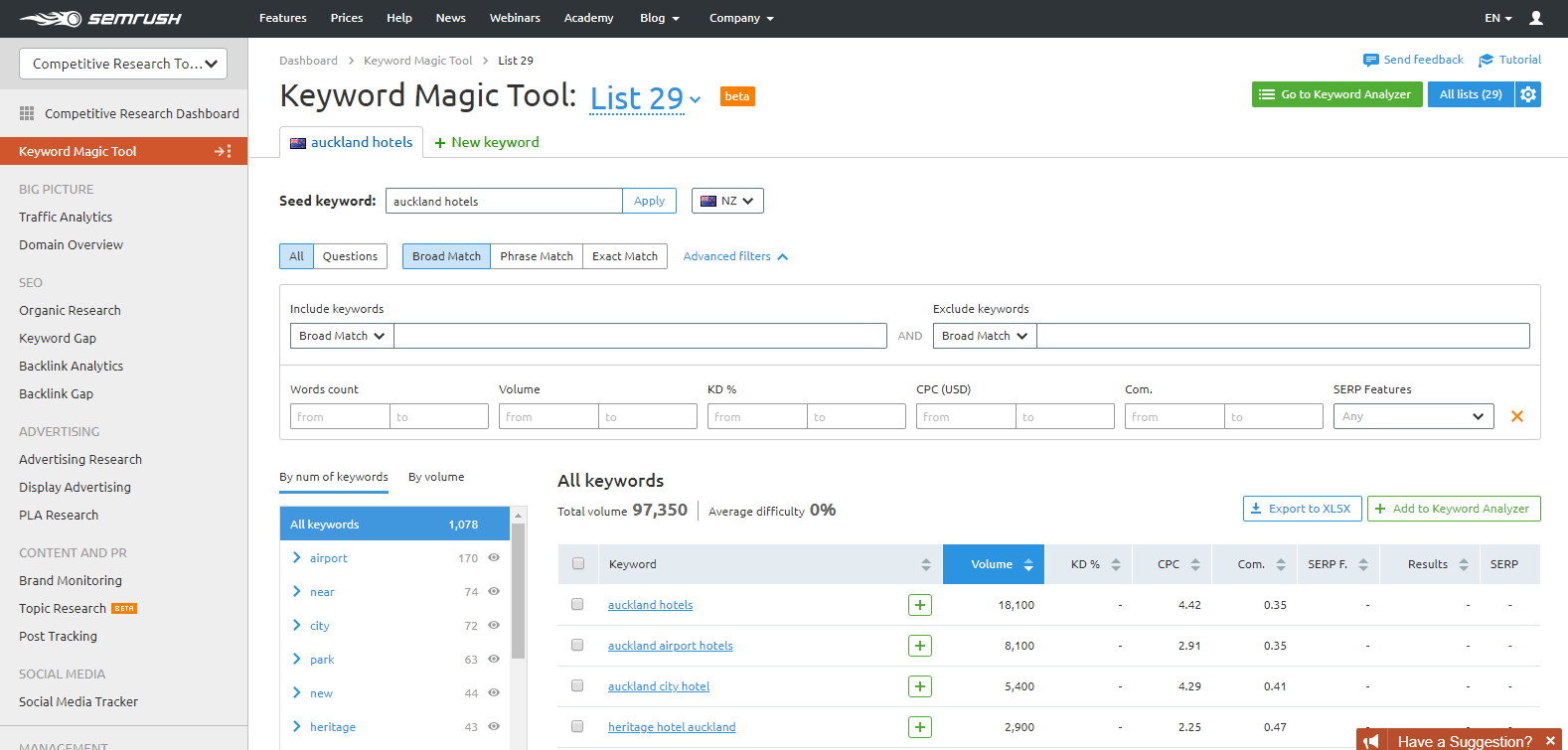 Moz Keyword Explorer: To truly use many of Moz's exclusive and powerful feature, you need to sign up for the paid version. It has limited free features. Intuitive and easy to use.
Ahrefs Keyword Explorer: Very similar to the above two tools. The choice comes down to which one you're most comfortable using. Check out this story if you're using Ahrefs to help you plan your keywords.
---
With the above you will have a list of keywords that can help grow your qualified traffic. In the next blog in this series, we will share ideas on how to optimize the page for these keywords. In the meantime, we'd love to hear about tips and tools that come into play for your SEO strategy. Email marketing@staah.com for ideas.