The digital world is extremely dynamic and to be successful all hoteliers and accommodation providers need to keep up with the changes.  Becoming conversant with the basics of digital marketing is essential. 
---
Your website is like an online business card, distributed by key digital components (search, PR and promotions, email marketing, content and social) to drive sales. These key components along with other 'informants' and tools come together to form a digital ecosystem that is unique to every industry. 
The digital marketing landscape is a fast-paced world that presents a myriad of opportunities. Modern marketers deploy data-driven strategies and tactics to reach and convert niche audiences, driving greater value. For hoteliers and any accommodation provider, this means acquiring guests online for a lot less than traditional marketing methods.
But there is a catch.
For hospitality businesses, this ecosystem looks something like the diagram below.
We help you take the first step into the digital world with this guide. We put the microscope on the digital ecosystem and basics of online marketing for properties of all sizes. There is a lot to take in; this is just the tip of the iceberg. Keep in touch
with trends and tips on blog.staah.com. And, of course, how STAAH fits in as your partner for online success.
KEY COMPONENTS OF YOUR DIGITAL ECOSYSTEM ARE: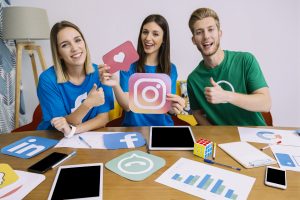 Online Travel Agents (OTAs) & Meta Search Engines:
Top-performing region-wise Online Travel Agents (OTAs), Think of them as billboards with a travel-focused viewership.
Search Engine Optimisation & Paid Per Click (PPC) Advertising:
Such as Google AdWords and Facebook Ads.
SEO or Search Engine Optimisation is a combination of strategies used to increase
a website's visibility and ranking in search engines.
This surge in social media use makes it a bright spot for brands to engage with customers – to dream, plan and book their next holiday. Focus on all platforms including Facebook, Twitter, Instagram and many more.
Global Distribution System (GDS):
An oldie but a goldie.
Your Website & Booking Engine:
Your hotel website gives potential travellers a chance to view the most important aspects of your property. Your website should be creating potential customers to paying guests. Including payment gateways and a secure Booking engine is also very important.
Management Platforms ( commonly known as Hotel Management Software):
Including Channel Manager, Property Management System (PMS), and Revenue Management Software (RMS). Many factors come together to make this ecosystem work favourably for you, including content, data and reliable and insightful technology.
It's an operational imperative to include online channels in your distribution plan, if you want to generate the highest possible revenues and increase occupancy rates!
Special mention: Channel Manager
Every tool and technology has a unique place in the digital ecosystem. For hospitality businesses, a key tool is the channel manager which is a one-stop solution. (Hotel management system)
What is a Channel Manager? Why You Need It?
In simple words, it is a conduit between you and various booking channels (OTAs, GDS, booking engine, payment gateways etc. A channel manager is your tool to easily and efficiently manage your inventory and rates across an ever-growing list of OTAs and distribution channels. In a world where automation is becoming the core rule, a channel manager can hardly be ignored.
How to choose a Channel Manager?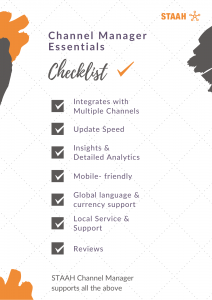 Check that the channel manager is connected to all the platforms you need, including key OTAs and your PMS / CRS.
How quickly the channel manager can send and receive updates is extremely important and a provider should be able to give you accurate data.
Make sure the platform provides detailed analytics showing how each channel is performing.
iOS and Android apps will allow your team to manage and monitor your property when out of the office.
Make sure the channel manager supports different currencies and languages.
Having the right technology backed-up by local contacts will make a difference when you have a question or need help.
Check-out customer reviews to see what others' experiences have been.
---
This article has been taken from STAAH's FREE eBook on Digital Marketing Toolkit for Independent Hoteliers