Manas Lifestyle Resort now has a way to manage walk-ins while finding ways to improve the way they distribute and manage their property online.
---
Set in the lush beauty of the Sahyadri mountain range in the western Indian state of Maharashtra, Igatpuri is a popular escape for city dwellers. Manas Lifestyle Resort is the oldest resort in this beautiful destination. A four-star escape, Manas is synonymous to Igatpuri – many would even argue that it is the resort that put this tiny town on the tourist map.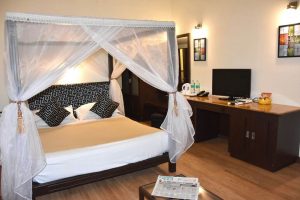 Located on the highway that connects Mumbai to the state's other key metropolitan city, Nashik, Manas attracts business and leisure travellers alike. The 49-room property with two villas is known for its warm hospitality and high service standards. Guest surveys indicate a 97% satisfaction rate – a badge the Manas team wears proudly. Over the years, the place, its magic and service have earned Manas many loyal guests; and the new ones keep coming.
On the hunt for a user-friendly distribution technology…
Manas had a distribution system prior to STAAH, but the increased need for an aggressive online presence drove it to look for technology that was more reliable, powerful and smarter.
Being a property near the highway, walk-ins are common but Manas had no way to manage offline guests, whilst updating inventory to show this booking. As a result the risk of overbookings was very high, not to mention the hours of labour in making updates manually.
Along came STAAH …
"When we compared STAAH with other distribution technology platforms, its performance stood out," says Pradeep Singh, Head – Sales & Marketing, Manas Lifestyle Resort.
STAAH's powerful technology with features tailored to support the revenue growth of modern properties has won the hearts of its 10,000+ customers worldwide. "Our decision was guided by STAAH's unblemished record in the industry and the reviews it has earned for its reliability and prompt service."
Manas opted for the full suite of STAAH products, including its Channel Manager, Booking Engine, Online Reputation Management System and a Central Reservation System.
Jump in bookings with STAAH
Since shifting to the STAAH platform in August 2019, bookings and revenue for the property doubled.
"The global nature of STAAH's distribution platform meant we could reach newer audiences by connecting more online channels. Combined with strategic pricing and monitoring competitors and target markets more closely via STAAH's insights, the results were fabulous."
Pradeep is also all praises for the customer support provided by STAAH during the set-up and ongoing. "You can rely on being served promptly by STAAH, and by a team that understands not just its products but the environment, it operates within.
STAAH's CRS feature has allowed the automation of walk-in guests. "When we make a booking using the CRS, a voucher is automatically created for the guests with a link to make a payment. Failing the payment being made within the stipulated time, this booking is cancelled. All online channels are updated in parallel to prevent overbooking."
Pradeep says the CRS has been extremely effective in reducing the time staff spend behind the screen updating rooms and rates, allowing more time to improve their service.
Other STAAH products that have won the Manas team over are ReviewMinder and RateSTalk, which allows the team to monitor rates of their top five competitors easily.
"A clear advantage of STAAH is its simplicity; systems are intuitive and easy to use," says Pradeep. "Some sites are so complicated and you spend ages trying to find what you're looking for – STAAH is different to this."
"We've been won over by STAAH's reliability and performance, and would definitely recommend it to other hoteliers."
---
STAAH hotel management software offers a wide suite of products for independent properties and hotels in India.
Book in a FREE DEMO today with our local Business Development team sales@staah.com