Fraser Coast Business & Tourism Award winners, Main Street Motel owners Jess and Rebecca talk about how smart marketing and STAAH support has facilitated this win and helped them grow in a very competitive city.
The motel…
Located in the heart of Hervey Bay [Australia], Main Street Motel offers quality accommodation to both leisure and business travellers. Owners Rebecca and Jess Arnold took over the property in 2017 and manage the entire operation without any additional staff. The 10-room property was refurbished in 2014 and prides itself in its facilities. The location and service of the property have lent themselves to becoming a regular with many customers.
---
STAAH was with us since day one…
Main Street Motel was already using the STAAH channel manager and booking engine when owners Bec and Jess took over. Nearly two years on, they both see great value in the platform and can understand why the previous owners chose it over others.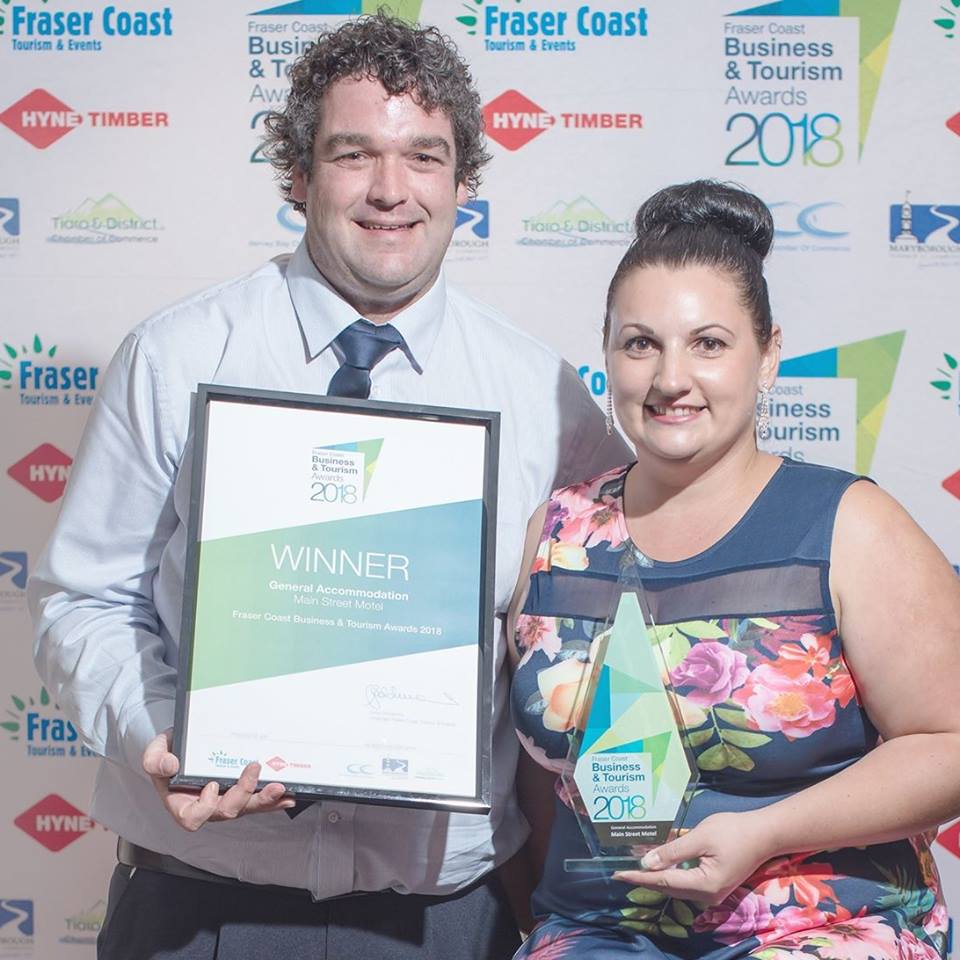 "Being very competitive, making timely and quick price updates across multiple channels is critical to our business," says Bec, owner of Main Street Motel. "STAAH has enabled this and more."
Using the STAAH Instant Channel Manager, the couple is able to instantly update rates and inventory across a number of online channels. With more than 250 integrations worldwide, the STAAH channel manager is suitably placed to help them increase their online reach. Based on demand, competitor tracking and using STAAH's insightful reporting tool.
"The channel manager is a one-stop-shop to manage all OTAs, using a single login," says Bec. "This is a huge boon and allows Jess and me to concentrate on the big task of managing the motel on our own."
By not hiring an additional staff member to manage this complex process, Bec and Jess have been able to pass on the cost-saving towards a lower room price. "We've maintained high occupancy rates with our affordable pricing and won many loyal customers," says Bec. "This is also seen in strong customer ratings, which is becoming critical to attracting new guests."
Main Street Motel also uses the STAAH ConvertDirect Booking Engine. With an easy three-step booking process and advanced features, the conversion-based platform has been great in helping increase direct bookings, and consequently profitability.
---
Smart marketing efforts to boost business…
Technology well in place, Bec and Jess promote local attractions such as Fraser Island and Whale Watching tours to improve the guest experience. The tours are bookable via their front desk, offering convenience that is very important to modern travellers.

In a sector where the sharing economy is reshaping how business is done and vacation rentals offering a home-away-from environment, Main Street Motel is positioning itself well with personalised service and allowing pets.
These efforts are reflected on the growing list of awards the motel has been garnering. STAAH is proud to play its part in this success.
---
Main Street Motel is a pet-friendly motel,  offering comfortable accommodation, an outdoor swimming pool, free unlimited WiFi and free continental breakfast.