Check out these Facebook and Instagram pages of accommodation providers around the world. We love them for what they say and how they say it. There's a lot to learn here – definitely a ton of inspiration.
---

Sixty Hotels @Sixtyhotels
 This boutique American hotel group does a great job of using their social media channels to promote not just themselves, but their local community. Their social content ties in seamlessly with the #sixtyguide blog.
We love their smart use of hashtags and mentions – the location hashtag and shout out to the local businesses they are featuring by including their Instagram handles.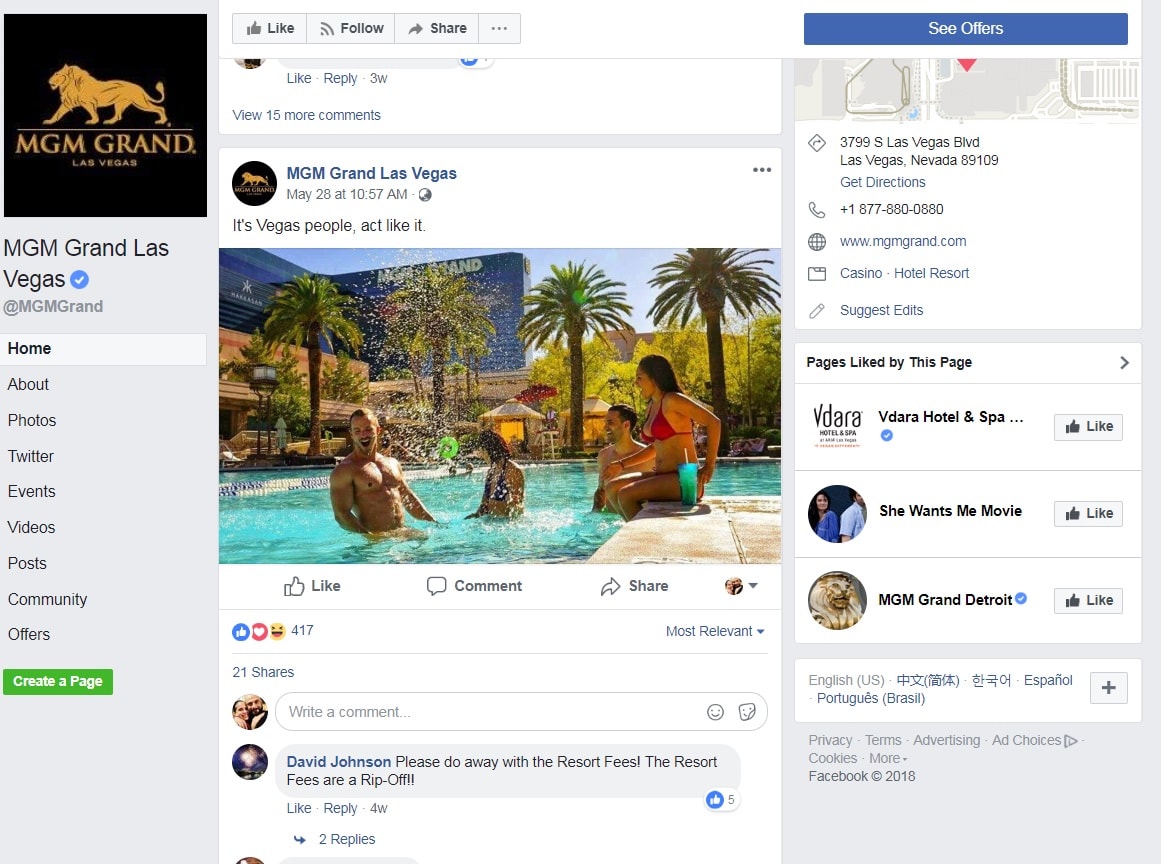 MGM Grand Las Vegas @Mgmgrand
 Arguably they have an endless list of activities to offer. What's great about their social media is the way moments are captured – in a very Las Vegas style. Never miss a chance to promote their lavish events.
We love how their posts are short and simple, yet always engaging. They are crafted to extract reactions from followers. With Facebook's latest algorithm changes supporting on-platform activity, this strategy is fantastic!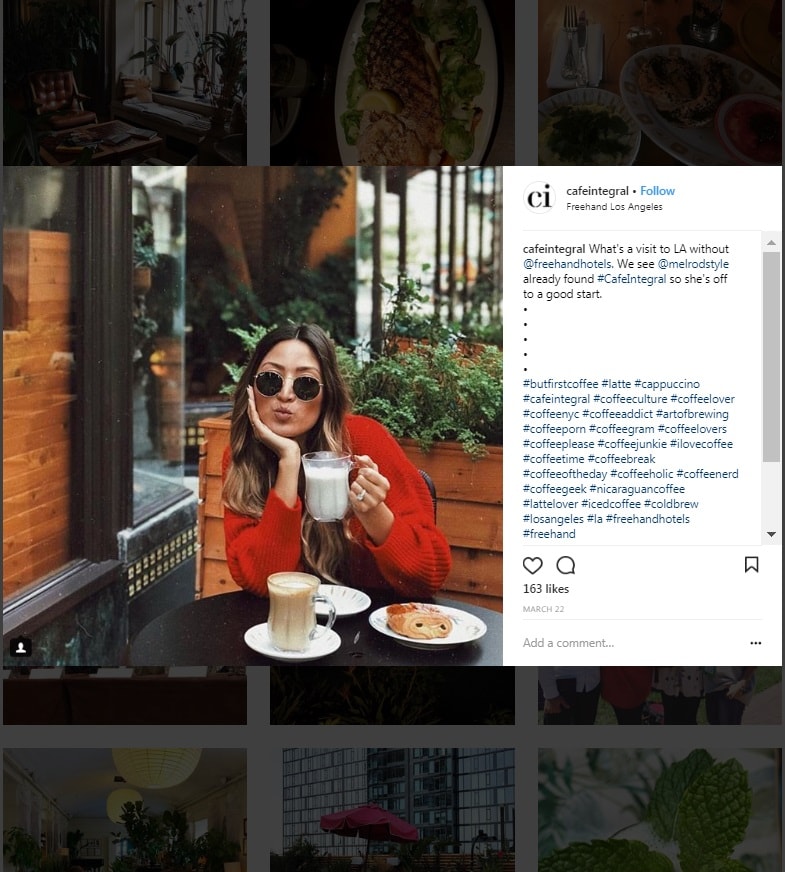 Freehand Hotels @Freehandhotels
People and a centered approach is very much the strategy this Miami property uses. And, it works. Seen in high levels of engagement. Freehand works collaboratively with community and influencers, hosting events and creating a great culture of sharing on their platforms.
We love how they collaborate with influencers and work in an integrated manner – online and offline – for the best results.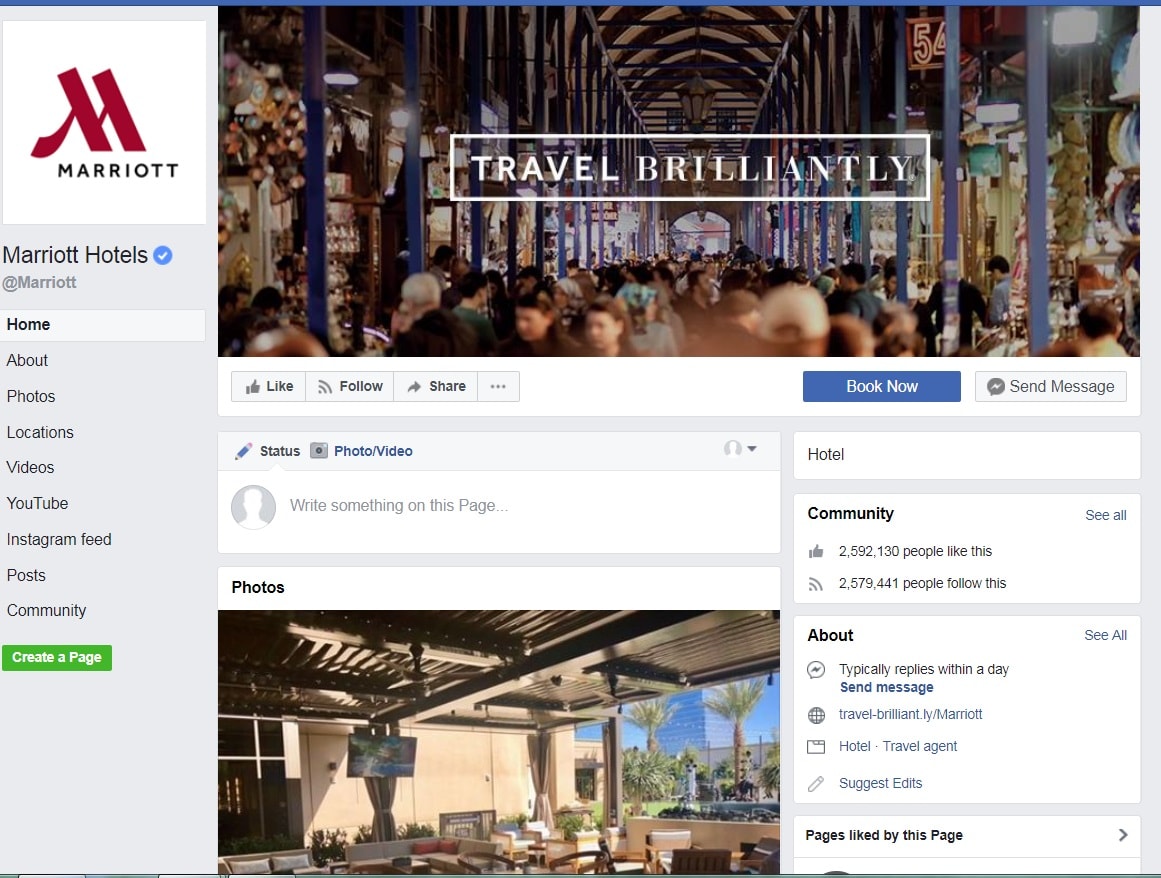 Marriott Hotels @Marriott
Their social channels have everything you'd expect from an international hotel group – stylish and stunning photography, well thought out promotions (very light in tone and style to fit the social medium), well thought out hashtags and excellent content. Everything you need to wow and engage.
What we love is also how they pull in mainstream campaigns into the social stratosphere by designing them to be strongly user linked. Their Travel Brilliantly campaign for example is designed to get users to suggest ideas on what they would like to change about their travel experience.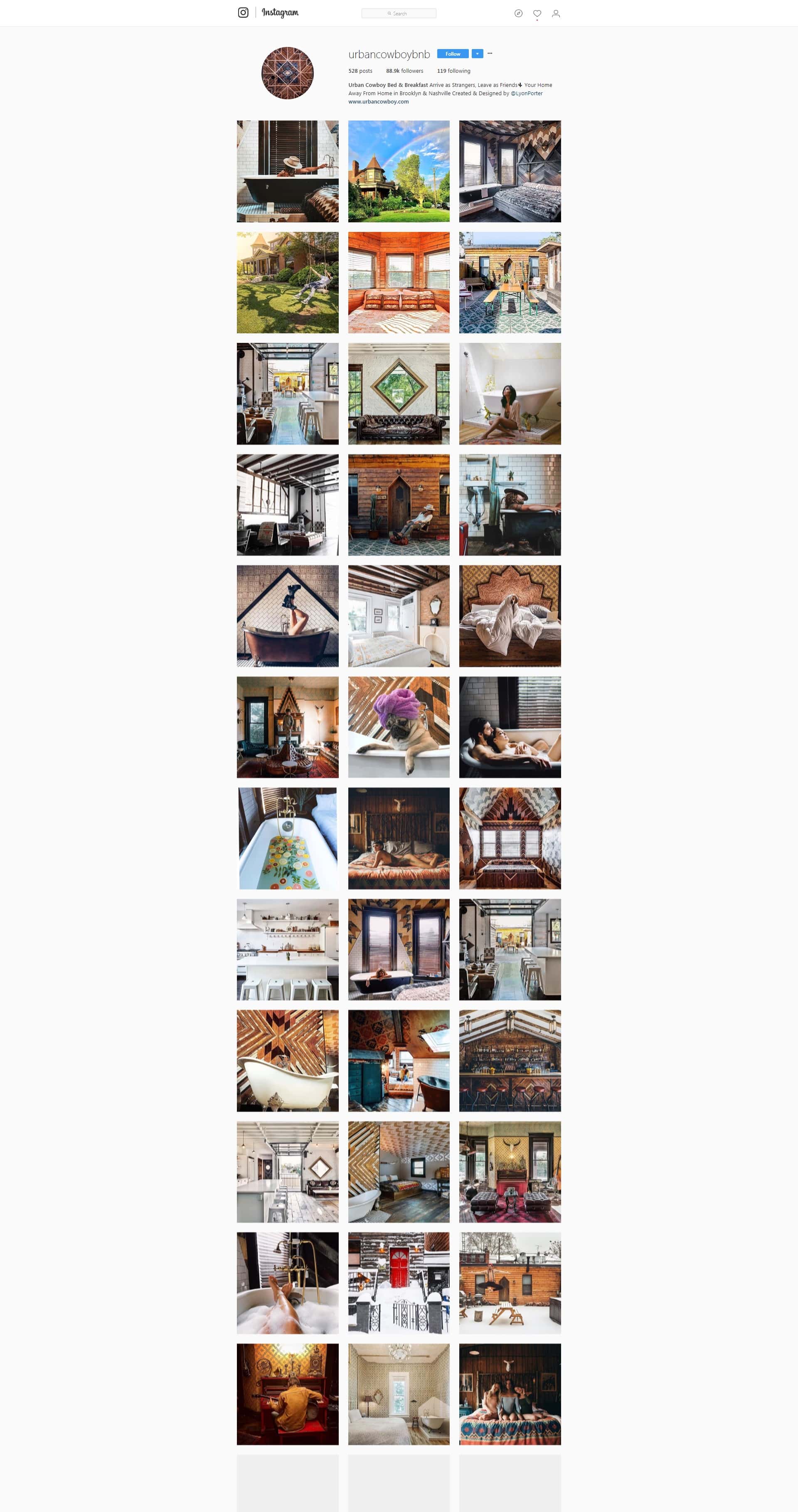 Urban Cowboy B&B @Urbancowboybnb
Social channels are an extension of your property. One look at the Instagram account and you will know what this bed & breakfast is all about a cozy southwest American style log cabin.
The way they use images to represent their personality on both Instagram and Facebook is inspiring. They're another good example of working in collaboration with the community, often featuring local designers' products in their rooms.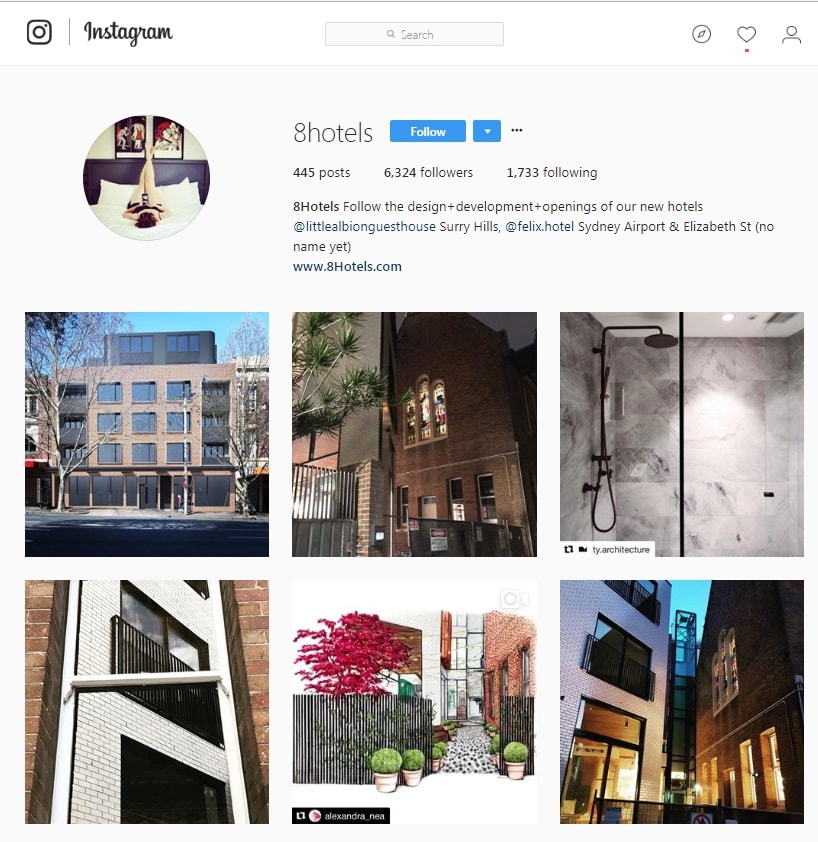 8 Hotels @8hotels
These guys are pretty awesome at scratching your wanderlust. They post often and mix it up really well. What's really good about their channels, especially Instagram, is how they engage their fanbase by reposting tagged images. No better way to inspire than what users say.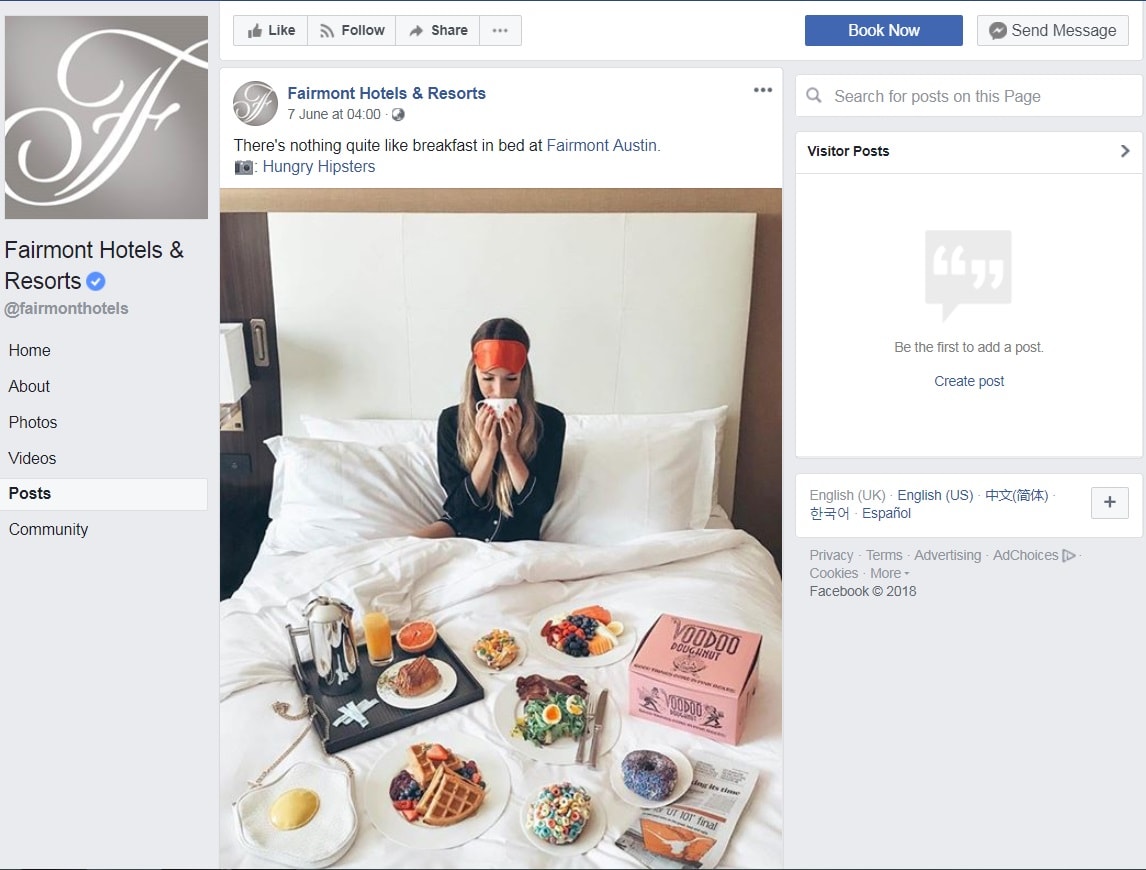 Fairmont Hotels & Resorts @Fairmonthotels
The company's social media posts highlight individual properties with excellent photography, encourages conversation and engagement with leading questions, promote deals and discounts, and also offer itinerary ideas for specific destinations.
We love the originality of content and user-friendliness. An example is their Everyone's An Original Personality that matches up fan interests to their lifestyle interests to help define a travel personality. Great way to gather information about their users while creating engagement.