The industry is going through unusual times filled with anxiety and unforeseen difficulties. But it is also true that we are witnessing the best of human nature who are rising to the challenge in their own special ways. This is the story of our partners from Rotorua – New Zealand.
---
Arista of Rotorua has been the Number One family hotel chosen twice by Trip Advisor over the past 4 years. Owners – Mike Gallagher and Annemarie Gallagher, have built it like a dream and attribute their success to being focused on guest experiences and providing outstanding service.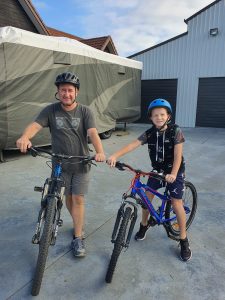 The couple has also helped Rotorua gain its rightful place on the tourism map of New Zealand, by communicating various attractions, activities, eateries, value-adds, and discounts, through the website www.rotoruatouristattractions.nz.
Continuing to foster a sense of social cohesion in the strange isolating times of today, the couple has been working hard along with Rotorua Motel Association, in disseminating information and supporting the accommodation providers.
Being positive in midst of all the tragic things that is happening around is the only way to survive a crisis," says Mike. "Now is the time to create small moments of happiness in our lives, and my wife Annemarie and I, have been actively trying to do just that."
Going walking and biking with kids every day has given the family, the time and opportunity to strengthen their connection. While Mike has been teaching his kids few tricks of biking, Annemarie has created a monopoly money system where the kids do jobs around house for money, and then can purchase stuff from a make-shift store in their kitchen.
The Gallagher family has also been actively involved in DIY arts & crafts. Making Paper Mache, recycling milk bottles, painting objects, are helping create moments that the family is sure to savour in future.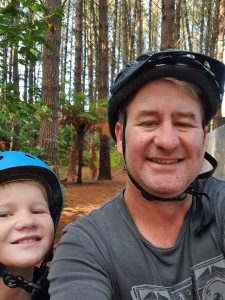 Rekindling hobbies that were ignored due to lack of time, Annemarie is making most of this quiet period by getting back to sewing. Gardening and tidying up of shed is on the agenda too, as the couple start ticking off the pending tasks from their to-do list.
Catching up on favourite shows, having fun over karaoke nights, the family has been spending time together and making these moments count, by doing things they have missed in their daily grind, pre-covid 19 times.
I have been watching Ozark on the Netflix and am eagerly looking forward for the 4th series of Money Heist to come out soon," says an excited Mike.
---
Like every dark cloud has a silver lining, this is the time to focus on that lining and take charge of life so that you come out of this experience stronger. We would love to know your story on how you are staying positive and keeping strong. Mail us at marketing@staah.com.