Continuing the trend of bringing you the best, here is a quick list of product updates, enhancements and features, that you should take note of, for the near future.
---
STAAH MAX- STRUCTURED CANCELLATION POLICY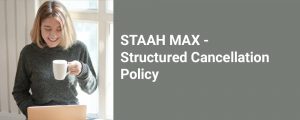 Creating cancellation policies specific to your property requirements. Cancellation policy created at group level will be visible to all properties within the group. To know more click here
---
STAAH INSTANT – Group Export Booking Function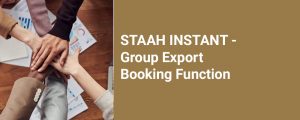 We have added a function in group login/ account which allows property to extract booking report for all properties linked to the group account. A report can be extracted for a maximum of 10 properties. To know more click here
---
STAAH MAX ROOM PRIORITY DISPLAY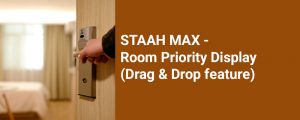 This feature is available for STAAH MAX Booking Engine. It allows you to change the priority of the room type display as per the setup in booking engine. To know more click here
---
INSTANT ENHANCEMENT Booking.com High Demand date Opportunities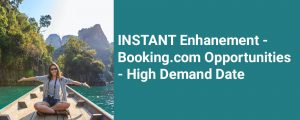 This module provides a platform for OTA partners to highlight business opportunities that can help a property improve their performance or guests experience. Data is retrieved from OTA via an API (Provided by OTA). To know more click here
---
STAAH MAX Integrations & Enhancements
Integrations: now available in MAX2
Roonsoft
iHotel
Bobobox
ABS
Roiback
Netroomz
Stayingat
e-Globe
Rateping
Callistacloud: PMS now supports receiving deposit amount (Live in Instant/MAX/MAX2).
Booking Engine: Display Sold Rooms – Flexi View
The feature allows a property to display all rooms on the Flexi view booking engine.
Option to enable via available in extranet.
Login > Booking engine > Booking engine permission > enable toggle.
Properties without MAX plan – flag is via Superadmin permissions page.
By default, rooms that have availability for 14 days from the selected date are displayed.
Package display: Package tile is visible when 2 or more packages are available for selected dates.
By default, the package tile is not visible when one package is available.
Booker can view package info by selecting the package info or (i) icon.
WMR widget: STAAH has changed the display name of OTAs on the widget.
Agodaycs – now Agoda (Instant and MAX2).
AirbnbContent – now Airbnb (MAX2)
Dashboard: STAAH has added Tips and Trends tiles to the MAX dashboard. Your dashboard will now display:
Your Services
Tips and Trends
Inactivity Logout:
Users will be logged out of the Extranet after 30 minutes of inactivity.
5 minutes before logout, users will receive and alert that the session is about to expire.
---
Hope the above excites you as much as it excites us. We will keep you updated on new enhancements, features and releases, as we continue striving towards building great experiences for our partners.
Feel free to browse our blog for the latest tips and trends in Hospitality Industry. Do connect with us at support@staah.com in case you need any support around our products.