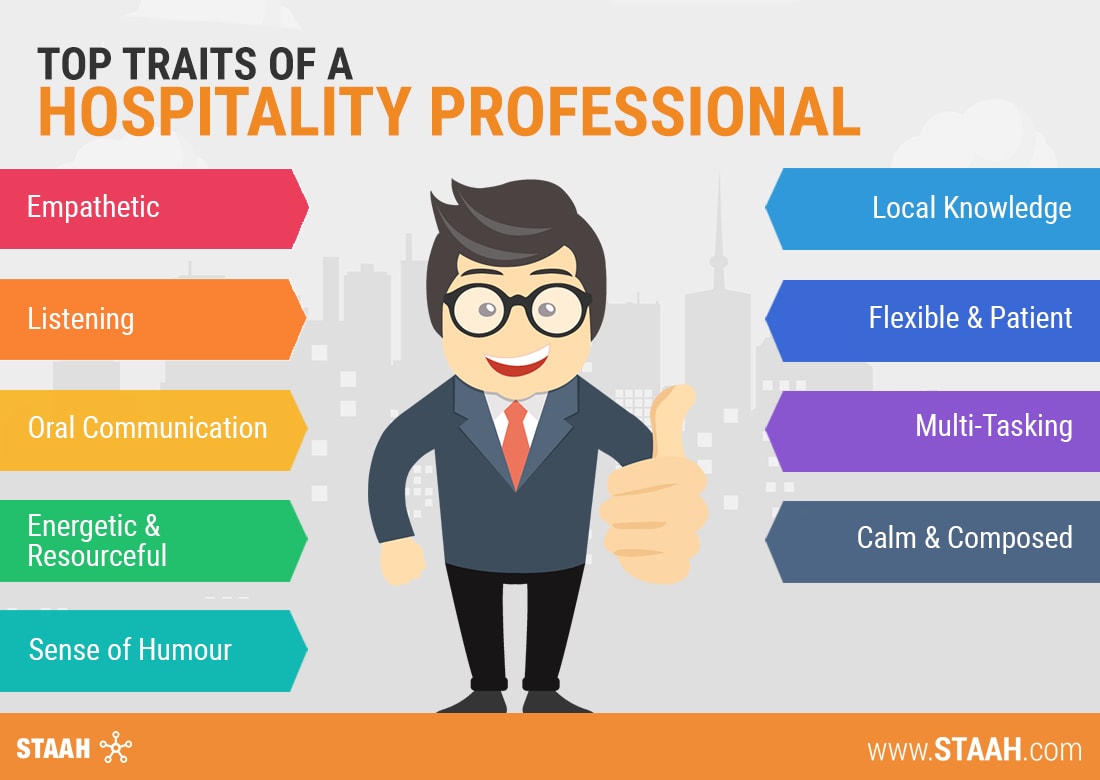 Some people are born to be in hospitality. Friendly, outgoing and with a never ending passion to serve guests; these are special people. Others need to work at it.

So what are the hospitality traits that set the good ones apart from the rest of the industry professionals? This post puts the scanner on hard and soft traits every good hospitality professional must possess. It's an extremely useful list when you're scouting for talent to help you deliver the best customer experience at your property.
Empathetic
Not to be confused with sympathetic. It's not your job to feel sorry for everyone who walks through your doors, but putting yourself in someone else's shoes will help you understand and serve them better.
Listening
This is vital. Half the battle is won if you listen to what your guests want rather than jumping the queue to respond. Remember also, listening doesn't always mean words that reach your ears. It is also important to 'listen' to your guests' body language and respond to it. If they are tired or stressed from a long journey, offer a glass of water or check them in quickly.
Oral Communication
The second part to listening is talking. Speak to your guests confidently and clearly. It is important to be friendly and look the person in their eye when talking.
Energetic & Resourceful
You're the sort of person who can strike up a conversation at 2am with a guest and have sufficient energy to meet any demands made at even this inane hour – with a smile of course! Hospitality professionals are also renowned for their resourcefulness – expect the unexpected and be ready to help, no matter how trivial the request.
Calm & Composed
You'll be faced all sorts of situations. 10 guests lining up to check in at the same time, complaints, demands…losing your calm will get you nowhere.
Sense of Humour
The most underrated quality in our opinion when looking for essential hospitality traits. If you want to have an impact, get your funny side on and make your guests laugh.
Local Knowledge
Modern travellers want authentic experiences. Every hospitality person needs to become the local expert who guides visitors to the best places. It's such a prized possession that even Google wants your opinions!
Flexible & Patient
If you've been in hospitality for a few years you'd know that things almost never go as planned. Be flexible to act on these changes. Hand in hand with flexibility comes patience. You will need a lot of it, especially when dealing with difficult guests.
Multi-Tasking
It's not hard to imagine a scenario in a hotel where an employee has to do two things at the same time. Think for instance of a reception desk worker with a complaining guest in front of him, simultaneously having to pick up the phone and cancel a booking on the computer. This is just one situation that can occur, but there are countless scenarios that require a hospitality employee to multitask. To be a hospitality superstar, you need to ace this one.
---
"Service is black and white. Hospitality is colour" according to Will Guidara, co-owner of Eleven Madison Park and The NoMad in New York. This one sentence defines the essence of hospitality. While the above traits are great, good hospitality is what you make of it and how much of passion you inject into guest service.
---