Direct bookings via STAAH's booking engine among the most used hotels booking platform among Kiwis.

STAAH, a leading hospitality distribution specialist, has revealed the top 10 booking sites in 2017 for New Zealand. Booking.com leads the pack with Expedia, STAAH's Booking Engine and Hostelworld not far behind.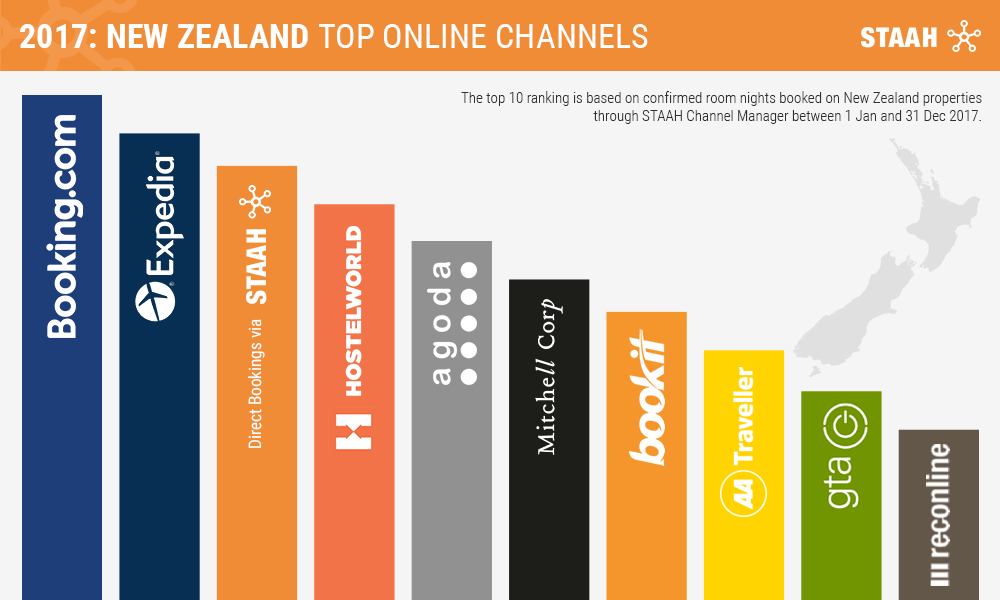 The top 10 booking sites in New Zealand in 2017 according to STAAH are:
Booking.com
Expedia
STAAH Booking Engine (Direct Bookings)
Hostelworld
Agoda
Mitchell Corp
Bookit
Traveller
GTA
Reconline
The list is based on total room nights processed via the STAAH cloud-based channel manager and its website booking engine for the company's partner properties in New Zealand.
"This list captures the distribution channels, specifically OTAs, which provide a critical measure of a property's success – its online bookings, "says STAAH's Founding Director, Gavin Jeddo.
"It is important to remember that each booking channel plays its own unique role in the decision-making and booking process for the modern traveller," he adds. "So, while the list gives us an overview, it is important for every property to consider their niche and audience while signing up to distribution channels."
STAAH's ConvertDirect Booking Engine makes it to the top three spots on the list. This is a fantastic addition, indicating a continued and fast-moving shift towards high-value direct bookings.
"As the distribution landscape for hoteliers continues to change, what remains key is the technology that powers it all," says Gavin. "STAAH will continue to play a pivotal role in the hotel integration and connectivity landscape so accommodation providers can earn the most from every room, every time."
---
We also published top 10 online channels for the UK, India, Indonesia, Malaysia, Philippines, and Thailand.