We are excited to announce a Dynamic integration feature with Booking.com where this exclusive feature will enable STAAH Max users to directly connect & manage their property listing on Booking.com through the STAAH extranet.
---
You will now be able to manage the following dynamic features at the click of a button.
Contracting

Content &

Room and Rate Management

Photos   
Benefits from managing Booking.com platform through STAAH extranet:

1) Contracting
Efficient contracting – A fully automated contracting process that you can complete in under 30 seconds.

Full control – You have complete control to add new properties and set them live.
---
2) Content & Room and Rate Management
Automatically update and create room types and rate plans in one place – You no longer need to manually create and manage rooms and rate plans on Booking.com platform. 
Reduced errors, no parity issues and no lost revenue – No more discrepancies or parity issues between websites, leading to better performance and no risk of lost revenue.
Increased bookings – Properties with a 100% content score get up to 18% more bookings than other properties with a lower score.
Full control – Be in full control of all of your property content through the STAAH Max extranet.
---
3) Photos
Ease of use – Add, delete and change photos quickly and reliably through the STAAH Max extranet.
Control over photos –You can choose how your property photos appear on Booking.com

More bookings – Easy bulk photo upload lets you reach a 100% Property Page Score faster, which can increase bookings by up to 18%.

---
Licences for Vacation Rental Properties
Retrieve licence requirements on property and unit-level –  Property managers can easily see which licences are required in order for their properties to go live on Booking.com.
Submit and verify licence information – Property managers will be able to verify whether the submitted licence information still meets the updated requirements, on the unit or property level.
---
Go to STAAH MAX Extranet > Settings > Mapping > Select 'Booking.com'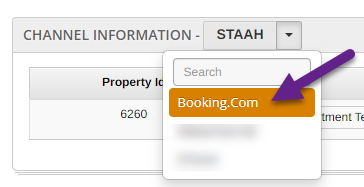 To enable this feature contact support@staah.com
---