STAAH and Neoteric Nepal announce a partnership to offer integrated online distribution solutions for hotels and vacations rentals.
---
Leading cloud platform for hospitality, STAAH, has forged a strategic partnership with Neoteric Nepal – a world-class leader in information technology. The partnership is expected to benefit properties who can leverage the STAAH platform to reach global travellers, automate the live room rates, availability and increase bookings. 
This partnership is also a reflection of STAAH's continued growth in the Asian subcontinent that a leader such as Neoteric should recognise the benefit of working closely with them to enhance guest acquisition for its strong customer base.
Commenting on the partnership, Sanjay Golcha, Managing Director of Neoteric Nepal said, "Nepal's tourism industry is pegged to boom once global travel restrictions ease and travellers worldwide embark on their once-in-a-lifetime experiences – travel to Mount Everest making this list. However, manual and complex price adjustments are still dominant in Nepal's hospitality industry, placing it on a backfoot when international borders open."

"Collaboration with STAAH allows us to bring world-class guest acquisition and booking technology to the hospitality industry by enabling them to market themselves to a much broader audience and deliver a seamless digital experience that the modern traveller is used to. We believe this partnership marks the start of a significant step forward for Nepal's hospitality and tourism industries.." 
Neoteric is a key driver to the expansion of STAAH's portfolio in Nepal which currently comprises 50 hotels, serviced apartments, resorts and spas. 
"STAAH offers a platform for hoteliers to attract, reach and convert guests from all corners of the globe. In doing so, they can get booked faster online – to increase revenue at a low cost – while taking advantage of powerful data that provides full visibility to their online performance and the capability to forecast ahead," says Rajesh Ghanshani – Director of Business Development India & subcontinent. 
This partnership is expected to be hugely beneficial for properties, whatever the size, to efficiently manage business processes without deploying additional manpower and automating an adaptive availability and rates management system. "In today's dynamic online booking landscape, this functionality brings with it a huge competitive advantage – whatever the size of the property," adds Rajesh.
---
The partnership was announced at a special Hi-Tea event hosted by Neoteric Nepal and STAAH, at the famous lawns of Hotel Shanker. who also are using STAAH technology to boost their revenue. Prajwol Sreshtha, Executive Director at Hotel Shanker ensured that the guests enjoyed the evening.
The event was graced by select dignitaries from the industry like Shreejana Rana  Executive Director Annapurna Group and President of HAN ( Hotel Association of Nepal ) that has over 3500 members, Shaguni Sakya, MD KGH (Kathmandu Guest House) Group of Hotels & Resorts are one of the 1st customers of STAAH in Nepal. Here are some highlights from the event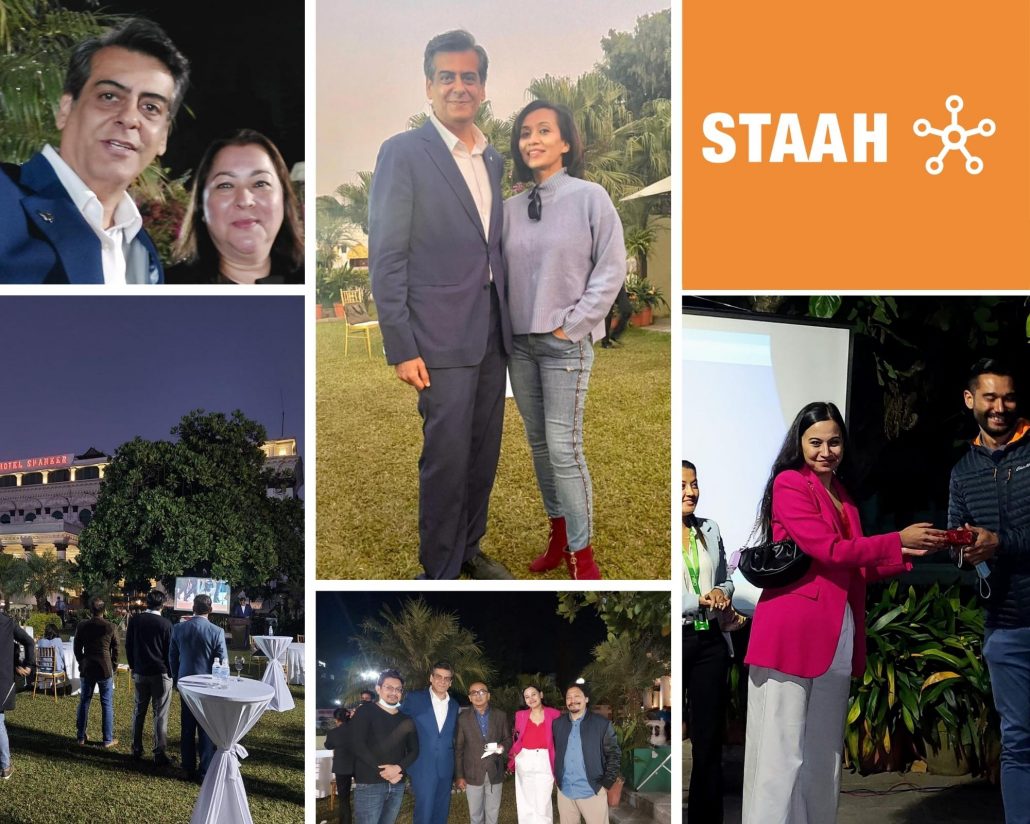 ---
Properties in Nepal can join the STAAH network by contacting sushmita.thapa@neotericnepal.com.np