Being your property and brand's representative on Facebook, it is absolutely crucial that you optimise your business page to maximise engagement. Here's how you can do this:
Get Your Profile and Cover Picture Right
These are the first and most visible features of your page. You have to make the most of them. The profile picture is ideal for a logo (square or stacked up version only please!). The cover photo can be more dynamic, being visually attractive while promoting a clear message and appealing to visitors' emotions. All images must be high quality. You can even create a short video (7 seconds) for this space.
Don't Forget a Page Username
Facebook gives you the option to personalise your address (URL) and unify it with your brand name by choosing a username. Eg. Facebook.com/STAAHLimited
Update Your Contact Information
You've probably made a lot of effort to get people to your Facebook page. Don't lose this precious traffic by something as silly as an old phone number or email. Make sure your contact information is always up to date. And always link back to your website.
Use Call-To-Action Buttons
Facebook gives you the option to choose from a list of call-to-action buttons. Of these, "Book Now" is the recommended and most common one for hotels and restaurants.
Fill up the Business Details
Make sure you fill up business information such as About us, services etc. Make this information short and snappy – hook the reader in with what's unique about your place and the location.
Customise Your Sidebar Tabs
Your Facebook is like your webpage and the sidebar tabs is the navigation. Make it user-friendly and keep it simple. Don't overwhelm people with lots of options; 4-5 menu items are enough, including hotel overview, rooms, specials, availability and book now.
Build a Book Now Custom Tab in Sidebar
You have the ability to add customised tabs to your sidebar menu. It is a bit of an investment in developer time, but totally worth it. Adding a Book Now tab that links to your ConvertDirect Booking Engine is highly recommended. Ask your STAAH account manager on how they can help you make this happen.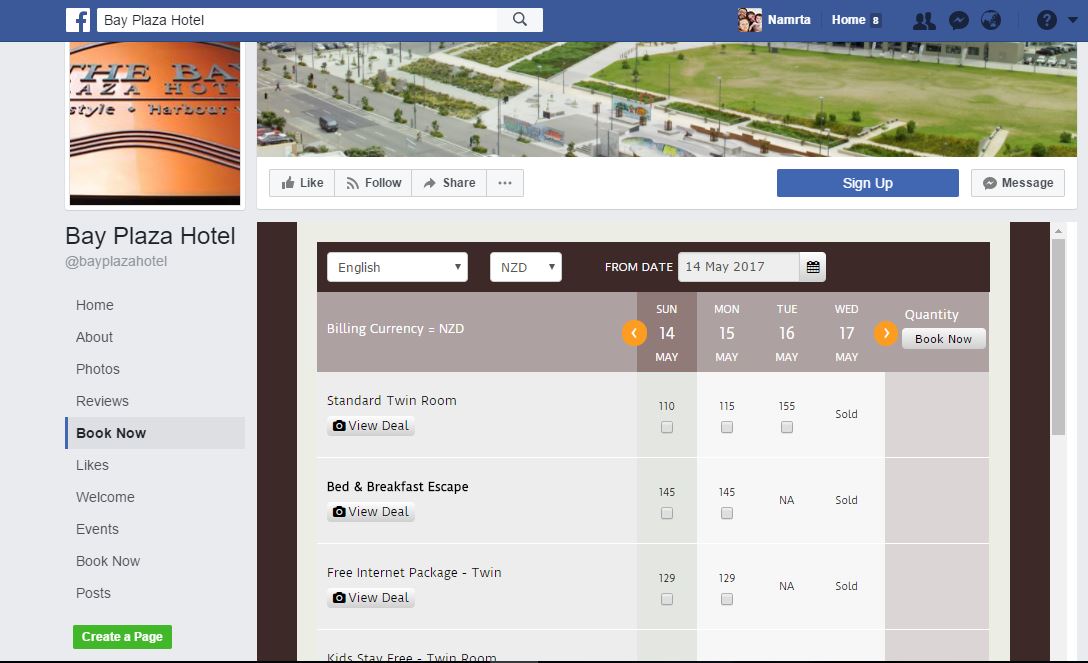 Add the TripAdvisor Tab to Your Sidebar
Another goodie to add to your sidebar menu – the TripAdvisor Traveler Reviews Facebook App takes a few minutes to install and will pull in your content from TripAdvisor, including fresh reviews and star ratings.
Sprinkle Your Page with Keywords
Use keywords in your content and page updates to let people interested in your content find you.
Tag Your Images
Tagging helps you increase the reach of your image and post. Ask your guests to take photos and tag themselves so their Facebook friends can see the post/image.
Optimise Your Facebook Updates
The first 18 characters of each of your Facebook post serves as the meta title and meta description on Google's search results. Use this space wisely.
Use Audience Optimisation
Select the audience that Facebook should target your page to – demographic, interests, location, etc. This function is available under the Settings tab on the top right hand of your page – look for Preferred Page Audience. Every post can further be optimised using the targeting icon.
Content, Content, Content
Create good content. Create it often. Then deliver it in a catchy format to the right audience. All this may sound like a mouthful, but it really isn't. Watch out for another blog on how you can create and manage quality content for your Facebook business page.
Enable Ratings and Reviews
This is a bit of a Pandora's Box, but reviews let your customers have a dialogue with you. It's a great social proof of your services. Never ignore negative reviews though. Deal with them calmly and preferably through private messaging.