Dubai based Four Apple Hotels', Saif Jugari, makes this insightful comment after completing a course from ARMA – especially designed for practicing revenue managers.
---
Another STAAH client has successfully completed the Certificate in Revenue Management Foundations – Hospitality course by Australian Revenue Management Association (ARMA). Saif Jugari, Cluster Revenue & Distribution Manager for Four Apple Hotels (formerly Pearl Hotels ) attests to the concise format of the course and the hands-on learning it brings for practicing revenue managers.
Certificate in Revenue Management Foundations – Hospitality (CMRF-H) by ARMA is a professional course that has been made available to STAAH clients at a special cost. Giving revenue managers a holistic view, the course incorporates a wider understanding of financial implications for a business, ways to improve a property's performance across departments and how these are harmoniously tied to revenue management are some of Saif's thoughts on the program. He goes on to say "What sets it apart is that it is highly engaging, unlike many passive video learning modules available online."
"The course imparts knowledge with structure and also how to tactically deploy the many tools acquired for effective revenue management which makes it absolutely priceless," says Saif.
Saif encourages hospitality businesses to invest in human resources by encouraging employees to upskill through readily available and highly useful courses such as the CMRF-H by ARMA.
"I was introduced to the course by the STAAH team, who, along with ARMA's Founding Director, Melissa Kalan, ensured I fully derived the professional benefit I sought from its completion."
In his capacity as the cluster revenue & distribution manager, Saif sets the strategy and ensures effective implementation of revenue management for the Four Apple group of hotels. The group is among more than 9,000 hospitality businesses that rely on STAAH's industry-leading booking and distribution technology.
"We had enjoyed the benefits of STAAH's technology as Pearl Hotels. But when the business was restructured and acquired by the Four Apple Group with the addition of new properties – in the middle of the busiest season – was when we truly realised STAAH's mettle."
"No transition is easy," says Saif. "But, STAAH ensured the process of connecting to our channels for distribution and getting booked was seamless. Our speed to market, thanks to the constant support we had from the STAAH technology team, was fantastic."
Four Apple Group of Hotels uses STAAH's Instant Channel Manager to increase its digital footprint and ensure successful delivery of its omnichannel strategy; seamlessly delighting guests. Having been already using STAAH's standalone booking engine for each property they are considering STAAH's central booking system for its cluster of nine properties with the objective of maintaining a high customer experience, better align (even reduce) marketing spend and cost of acquisition.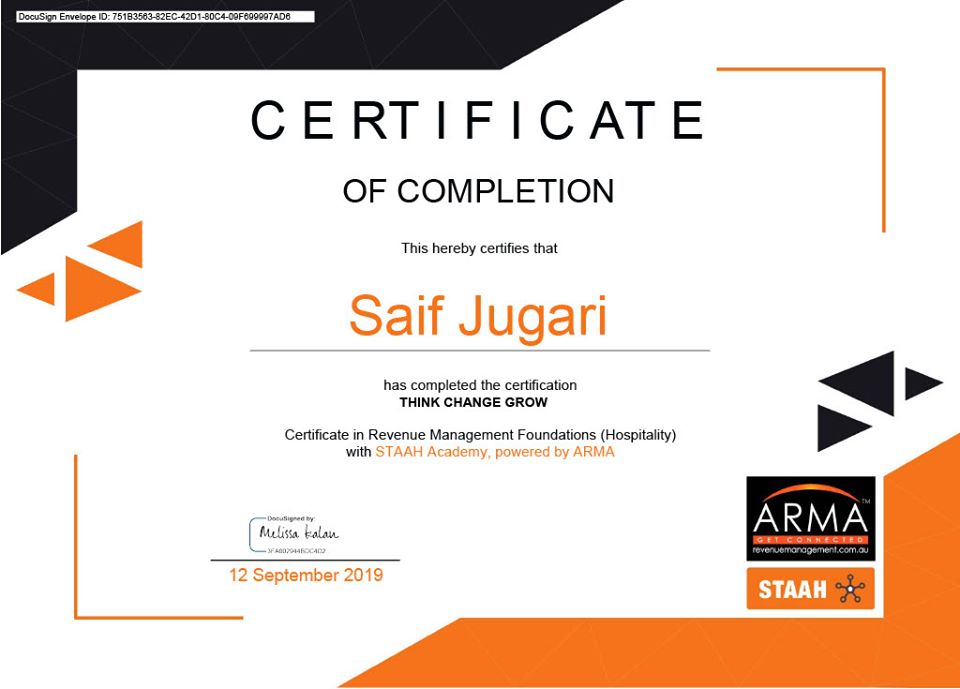 Ranging from budget to 4-star luxury accommodation, the Four Hotel brand that features nine properties across key locations along the Dubai creek. With its varied products, the dynamism and channel diversity that STAAH presents makes it an ideal partnership.
The presentation of learning opportunities such as the ARMA course further strengthen this partnership.
---
A hotel management team with hotels in Dubai, find more about Four Apple here.
---
STAAH customers can log into their extranet and click REGISTER to access the course for free. Non-STAAH customers can also take the course for 497 AUD by signing up here.
---
About ARMA
A Revenue Management Association (ARMA) is an independent organisation founded by Melissa Kalan and its purpose is to support the accommodation industry through education to grow revenue, yields, and profits. ARMA supports many properties and individuals, including globally-recognised chains, with their training needs from its headquarters in Australia.
ARMA prides itself on providing quality, interactive and engaging training via its Academy for all sectors of the accommodation industry including, hotels, motels, holiday parks, holiday rentals, apartment-style properties and B&B's. Many properties have benefited from completing an ARMA training course, having seen substantial revenue and profit growth going forward.
ARMA also developed the formally recognised and accredited short course in revenue management which is licensed via its training partners.