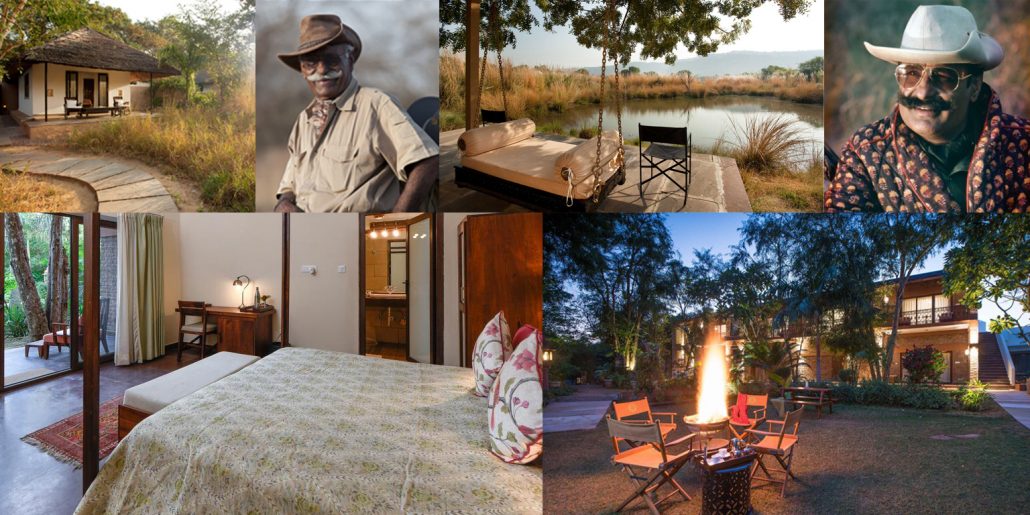 A quest for conserving a fragile environment is at the heart of the properties owned by the Rathore family of Rajasthan.
---
His fight to preserve the tigers earned Fateh Singh Rathore the title of the "Tiger Man of India". Protecting the Ranthambore [Rajasthan, India] tigers and similar fragile environments is a legacy he has passed on to his son, Dr. Goverdhan Singh Rathore. We spoke to him about speaking up for the wildlife, preserving a crumbling environment and how tourism is among the many integral projects to gain back what's been lost.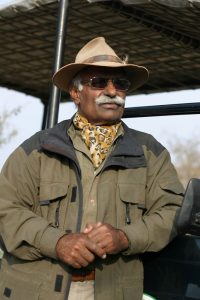 On the family's conservation history…
The story begins with Fateh Singh Rathore, an officer of the Indian Forestry Service and a fierce guardian of Rajasthan's forests. Starting off as a game warden in Mount Abu Game Reserve in the late sixties when hunting was still legal, he was transferred to Ranthambore.
Here began his love affair with the majestic tigers of this region and a mission to save them. In more than four decades of his work in this area, he was pivotal in reversing encroachment by villagers into what was tiger territory. He has played a critical role to ensure Ranthambore was granted National Park status in 1980 and deployed ingenuine ways to catch poachers through Tiger Watch, the non-government organization he founded to preserve the majestic red cats.
"He realized early that to win the war against poaching required a societal change," says Dr. Goverdhan. "His conservation methods took that into account. For instance, he founded a program to educate the children of the Mogia tribe in the area. Upliftment of the tribe, previously known to support poaching, led to them joining the conservation efforts and
almost brought poaching to a standstill."
"Education has paved the way for new employment opportunities and encouraged a shift away from relying on the jungle for daily living needs such as grazing. "They have a local school that provides scholarships to children from the villages around Ranthambhore as part of our efforts to save this fragile ecosystem," says," says Dr. Goverdhan."
For the tribal children, there is a separate hostel where they stay and study free. That is not related to the Fateh Public School. Although it is part of their projects under Tiger Watch.
A medical professional himself, Dr. Goverdhan has also set up a hospital in the area.
"Our two properties in Ranthambore, Khem Villas, and Fateh's Retreat are not just an accommodation in a popular tourist spot. Guests who stay with us participate in this delicate ecosystem. They understand its fragility and take the message of conservation forward," he adds.
Tourism to the Ranthambore region, around 60,000 annual visitors, has been fueling the local economy and aiding conservation efforts.
Beyond the tiger reserve…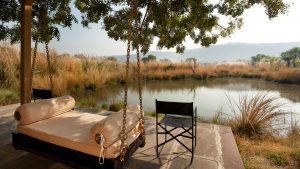 In Fateh Singh Rathore's wild journey is a poetic encounter – with Diana Wordsworth, a descendant of William Wordsworth who sought a peaceful hill sanctuary to call home along with her husband, an Indian Army colonel. Rathore guided the couple to set up their new home amidst 20 acres of pristine hill-scape of Mount Abu. And thus began the journey of Wordsworth Lodge, designed by the upcoming Mumbai architect, Rumy Shroff. During this time Diana became very close to Rathore, considering him no less than a son. Upon her death, he inherited this beautiful
cottage.
Unfortunately, his tiger conservation efforts meant the cottage was left to its own devices till recently when his son Dr. Goverdhan decided to restore it to its past glory.
Now, nestled among the most spectacular views of the Aravali Ranges, Wordsworth Lodge provides an escape for those seeking tranquility and an encounter with nature.
"Our aim with this lodge to is to make people aware of the natural beauty and heritage of Mount Abu," says Dr. Goverdhan. "Nature walks are an intrinsic part of the offer at Wordsworth Lodge; it is much more than a weekend escape to drink as is sadly becoming the reality for this hill town."
Looking into the future …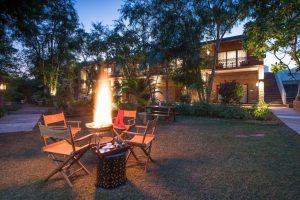 The family's rich conservation history and dedication to the environmental cause have won many hearts and word-of-mouth publicity has earned them many loyal guests.
"Our properties are a place where travelers come to seek richer experiences, participating in the fragile environmental systems they lie within," says Dr. Goverdhan. "They come as guests but depart as part of the community, taking the message of conservation a bit further."
On the marketing front, the properties are gearing up to reach further and attract more guests through STAAH's distribution system and direct booking platform. "Our commitment to the conservation of our environment and eco-system remains unaverred," adds Dr. Goverdhan. "We enable more people to experience our place and its surroundings.
Parts of it have been brought back from the brink of extinction. But if we enable people to experience this place now, they will have a deeper connection with it and its threats."
---
---
All the beautiful three properties owned by the Rathore family  Khem Villas in Ranthambore,  Fateh's Retreat in Sawai Madhopur, and Wordsworth Lodge in Mount Abu offer a unique luxurious experience in the wild of Rajasthan, India.