As revenues shrink, increasing productivity has become a pressing priority. To be competitive, you must be able to run your hotel efficiently – yet profitably.
---
Efficiency brings greater price flexibility and resilience, which in today's tough times is like gold. It is also not easy to measure as a return on investment. However, just like you continue investing in new technology, strategies, and people with long-term dividends in mind, you need to continue making changes to improve productivity.
In this post, we look at a few ways to increase the output of your staff, the efficiency of your property and. ultimately, your revenue.
1. Invest in your team.
Constantly replacing team members and providing training takes a lot of resources. Besides unhappy team members are not the highest performers according to a Gallup survey*. Investing in your current team, upskilling them, and incentivizing them has definite productivity benefits. Training your employees on new systems and keeping them abreast of the latest industry trends will make them feel invested in.
2. Get smarter with technology.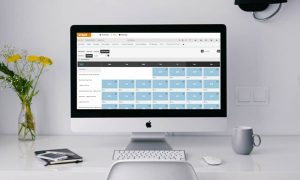 Your hospitality technology choices are critical to increasing staff productivity. Not only do cloud-based distribution systems such as a channel manager improve your reach; they improve operational efficiency so your staff and you can focus on improving the guest experience. Some systems you must consider for your property are:
 Automated inventory and rates management
If you don't want your staff spending hours updating rates and inventory across various online channels, getting frustrated with errors, and just bored with such a mundane task, invest in a channel manager. Cloud-based channel managers such as STAAH Max update rates and inventory in real-time; it's all a few clicks for your team using the platform.
Anyone who has booked in a guest manually knows what a time-consuming process it can be. An online booking system starting off on your website and plugged into our property management system (another absolute must for efficiency) allows staff to easily process a booking.
Showcasing your rates, deals, room features, etc, it enables the guest to get an overview of the room and make the booking in a few quick clicks. With payment gateways connected to online booking systems, this is also a more secure way to transact.
Pouring through sheets of data and switching between various technology systems to get information about occupancy, forward bookings, etc is not easy. Besides, there are now a number of technology solutions that allow you to gather data, analyze it, and make informed decisions.
Train up your team to leverage the data available in the STAAH platform, layer it with information within a revenue management system, and our PMS to make data-driven decisions. Since all these integral systems are seamlessly connected, making sense of the data is a lot simpler – and less time-consuming.
Technology to personalize the guest experience
Another benefit of having connected technology systems (read above), is having the ability to personalize the guest experience. A seamlessly connected distribution, booking, and PMS platform can enable you to gather more data on your guests, understand their preferences, and target them more efficiently.
With technology doing this job, it is not left solely to your staff to understand guest needs and improve the experience for them. If you add to this a marketing automation tool (or enable it within your PMS), you will have automated emails that are critical to nourishing guest relationships – another manual task off your staff's task list.
3. Encourage communication
Your employees need to feel like they can talk to their co-workers, both on their level and higher up the chain. Providing an open line for them to reach you increases the likelihood that problems will be brought to your attention. That's certainly preferable to a system where issues are allowed to fester until they become impossible to ignore.
4. Prioritise the right business focus.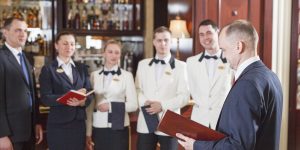 You need to understand what strategies will work best for you and what exactly it means for you to be productive. Should you think more about converting guests to upgrades and promotions? Do you want to create a legacy of return business and stellar customer satisfaction? Or are you more focused on staff being as efficient and skillful as possible? Figure out where your greatest benefit is coming from and conversely where you seem to be lagging, and make plans around how to make the most of each.
5. Revisit your business structure frequently.
Reassess the ways you work and ensure you have sufficient staff to meet demand. Do this exercise frequently and definitely with changing seasons so your staff doesn't feel overworked. Tired and overwhelmed staff are not productive.
6. Give praise and incentivize.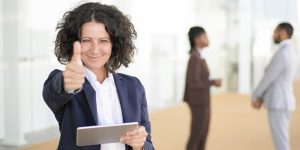 Everyone likes to be praised for a job well done. Be vocal with your praises for your team. Everyone works to be paid, and if your staff feel that they are well recompensed for their work, they are much more likely to work harder and to go that little bit further to do their job well. Incentives do not necessarily have to be monetary: other offers such as child-minding services, flexible or reduced working hours, etc could work well too. Understand your staff needs and create an incentive program that works well for both the staff and the business.
Conclusion
Increasing productivity comes down to paring inefficiencies from the daily operations of your property. Speed bumps can come from staff that is not properly motivated to operate the hotel in an optimal way. Outdated (or lack of) technology can get in the way of work.
The good news is that none of these issues are ones that cannot be fixed. Change won't come easy, but will definitely benefit your bottom line, staff morale, and guest experience. You just need to make a start at it.
*https://www.gallup.com/workplace/231668/dismal-employee-engagement-sign-global-mismanagement.aspx