One of the oldest distribution platforms, a GDS connects your hotel to travel agents looking for the right accommodation for their clients. Feeding in real-time rates and availability is important in this highly competitive platform that attracts high-value guests.
---
Let's look at some fun facts about this distribution system: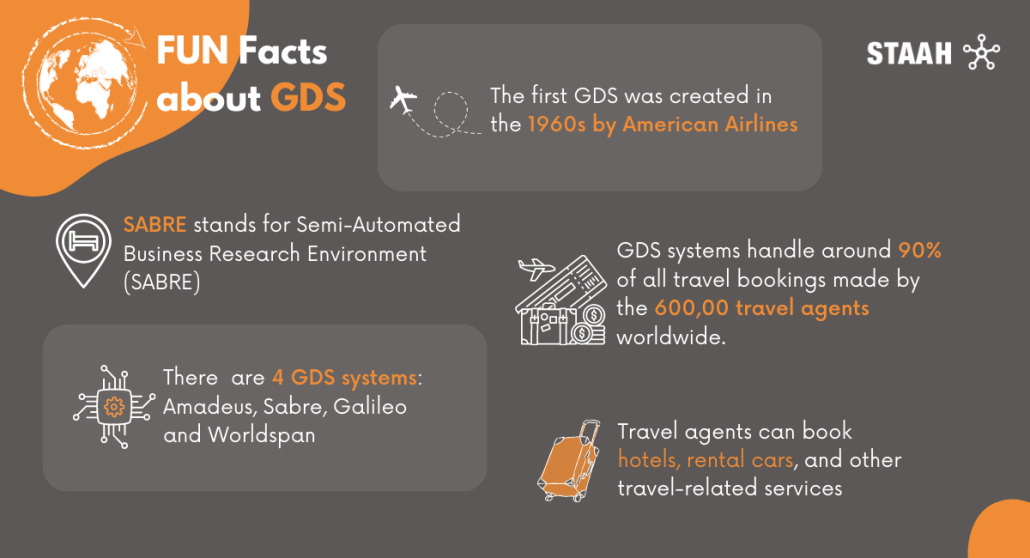 The first GDS was created in the 1960s by American Airlines. It was called the Semi-Automated Business Research Environment (SABRE) and was originally designed to automate the airline's reservation system.
---
Today, there are Four major GDS systems: Amadeus, Sabre, Galileo, and Worldspan. Together, they handle around 90% of all travel bookings made by 600,00 travel agents worldwide.
---
GDS systems are not just used for booking flights. They also allow travel agents to book hotels, rental cars, and other travel-related services.
Watch our recent webinar on Unlocking Opportunities with GDS here
---
GDS systems are highly sophisticated and can process millions of transactions every day. They use complex algorithms to find the best fares and routes for travelers, taking into account factors such as availability, price, and airline preferences.
---
GDS systems are essential for the travel industry, as they provide a central hub for airlines, travel agents, and other travel providers to connect and share information. Without GDS systems, it would be much harder for travelers to compare prices and book travel arrangements.
---
GDS systems have evolved over time to include advanced features such as mobile access via Corporate Online Booking tools provided to very large clients by the appointed Travel Agent e.g. AMEX, CWT, and Flight Centre, real-time updates, and data analytics. This has helped to streamline the booking process.
---
GDS systems are constantly evolving to meet the needs of the travel industry. As new technologies emerge and consumer preferences change, GDS providers are working to adapt and stay ahead of the curve.
---