The combined power of a user-friendly website and high-performing booking engine from STAAH helped The Melbourne Lodge multiply its direct bookings, saving thousands in OTA commission.
"We lacked flexibility and the tools to improve our website conversion before STAAH," says Jagmeet Singh, Manager of The Melbourne Lodge in Queenstown [New Zealand].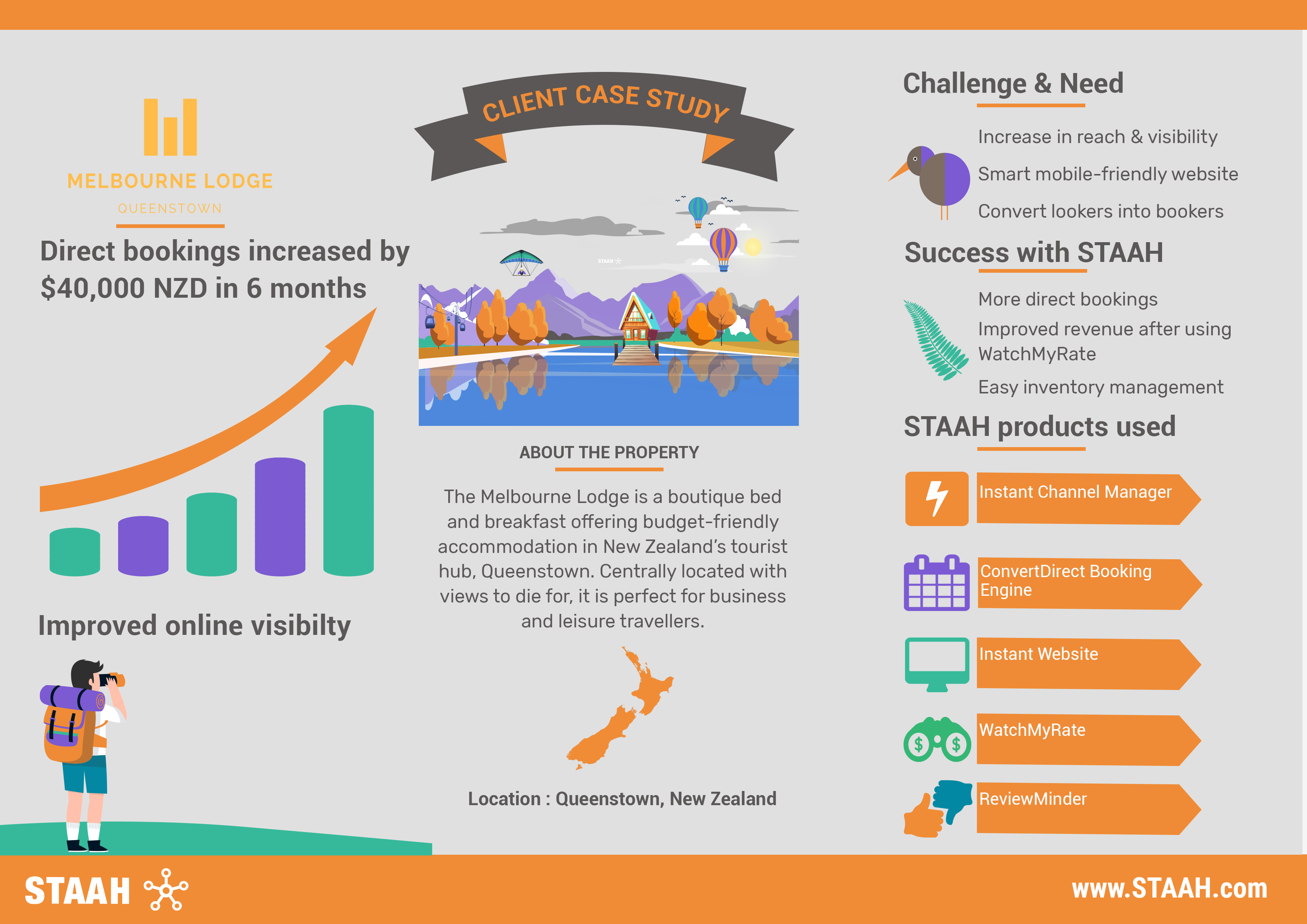 A boutique B&B in New Zealand's tourist hub
When it comes to location, you don't get it much better than The Melbourne Lodge. Located five minutes from Queenstown CBD, the lodge features stunning views of Lake Wakatipu and the Southern Alps. Catering to a varied audience, the lodge is loved for its comfortable amenities and proximity to a number of Queenstown attractions.
We needed more control…
"Before signing up with STAAH we had to reach out to our developers for every change," says Jagmeet. "This slowed everything up."
Direct bookings have always been an important channel for The Melbourne Lodge. "But, we needed the right levers to improve website conversion."
STAAH was a natural choice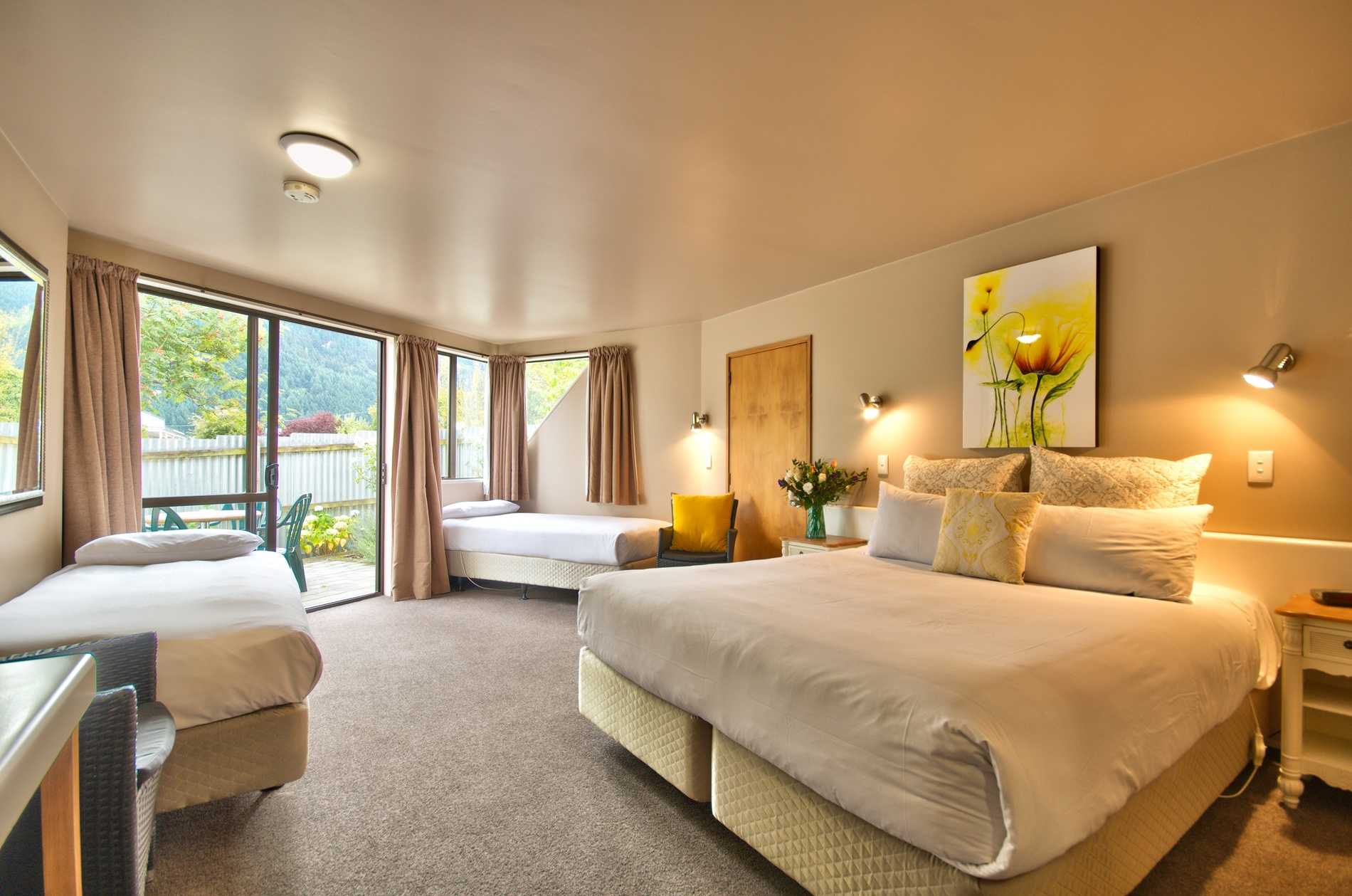 "The InstantSite offering was perfect for us," says Jagmeet. "It had everything we wanted in a website – mobile friendly and smartly designed. Most importantly, the content management system is easy to use and accessible from a single STAAH platform."
The Melbourne Lodge uses the STAAH Instant Channel Manager and STAAH ConvertDirect Booking Engine to manage online bookings. The real-time update from the channel manager combined with powerful insights was a huge attraction when selecting STAAH according to Jagmeet.
"WatchMyRate and ReviewMinder were additional features we decided to go with. It made sense. With more than 90% travellers reading reviews before making a booking, it was great to have a tool that aggregated and allowed us to display chosen comments on our experience on our website."
WatchMyRate is a widget that displays on a website's booking engine, displaying rates from OTAs alongside direct website rates. It is a great way to encourage users to stay on the website as opposed to switching to an OTA for want of a better rate.
"We had a strong direct channel, but WatchMyRate has measurably improved revenue."
The property boasts a substantial $40,000 (NZD) increase in six months from activation of the WatchMyRate feature.
The support is the icing on the cake
"The set-up with STAAH was quick and easy," says Jagmeet. He was sold STAAH on the grounds that it has been built keeping the end-user in mind. "This is 100% true. STAAH is a very simple platform to use and extremely intuitive. For the times you do get stuck or have an issue, the support is amazing."
The Melbourne Lodge is a boutique bed and breakfast offering budget-friendly accommodation in New Zealand's tourist hub, Queenstown. Centrally located with views to die for, it is perfect for business and leisure travellers.