There's a lot of love about STAAH's booking engines. Here's an update on the latest from this stable to help you grow your online bookings.
---
1. Smart Pricing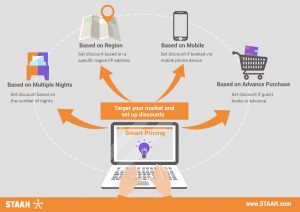 It is a new FREE feature for STAAH ConvertDirect subscribers. This feature is designed to enhance the process of setting up deals.
Smart Pricing allows you to set up deals dynamically and target some specific markets. You can set up rates via smart pricing based on the following conditions:
Region: scale the discount based on the region (country) example, you can push out a special rate to an overseas audience with a simple discount applied to your BAR.
Mobile: targeting by mobile (device), if someone books from a mobile device can get this special offer under smart pricing discount set up by you.
Multi-nights: based on the number of stay nights someone books, you can allow them to get the smart pricing unit discount.
Advance purchase: scale the discount based on the number of days a booking is made in advance. Calculating the number of days before someone booked and allow them to enjoy the smart pricing offer.
These four targets can help you attract guests and increase your direct bookings.
2. New Look WatchMyRate
Many of our customers already know and love the WatchMyRate (WMR) feature of the STAAH ConvertDirect booking engine. This smart add-on displays the lowest available rate searched for your property across five chosen channels and the option for you to offer either a discount or value add to encourage users to book direct.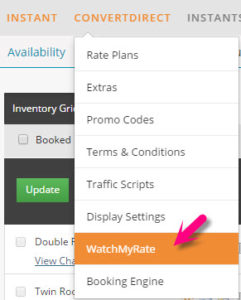 WMR's measurable impact is seen by properties big and small. A Queenstown property (The Melbourne Lodge) reported a $40,000 (NZD) increase in direct bookings over seven months of using the WMR feature.
This stellar feature is now shown on your website as a slider widget as opposed to a pop-up. The change is based on current digital best-practice and consumer research.
Click here for details on this feature.
3. Viator Integration
Your customers will be happy because booking local recommended experiences is an easy click away after confirming their stay with you.
You will be happy because every Viator booking coming via your website can earn you at least 3% commission.
We are happy because everyone's happy!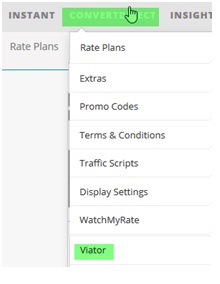 The integration with Viator, a TripAdvisor company selling tours and activities, is now enabled for STAAH booking engine customers via their extranet. Upon enabling, after completing a booking on your website, your guest will be able prompted to book a Viator activity via a banner on your website and the confirmation email. For every Viator booking, the property stands to earn a minimum of 3% commission.
Interested? Click here for details on this feature. 
4. Display Deals for Day Use Only
Are you an airport property or one where day use is frequently used? Make the most of your inventory by leveraging the STAAH ConvertDirect Booking Engine's Day Use feature. It allows you to highlight deals for the day only.


It's another smart feature that ensures every room in your property works its hardest to add to your bottom line.
Click here for details on this feature. 
5. Now Add Your Seasonal Rack Rate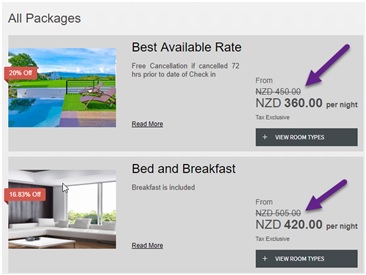 STAAH's new feature Seasonal Rack allows you to apply a Rack Rate that will display the standard rate for that particular package/room type on the STAAH MAX booking engine. This rate is displayed as a strikeout rate, which indicates to the booker that the rate they will be charged is a discounted rate for all available packages.
It's a great way to show value and prompt users to book direct.
Click here for details on this feature.
6. Last Unit/Room Prompt
Got few units or rooms left to sell for a particular day? Bring in an urgency for user to book with the Last Unit Prompt feature in STAAH Max booking engine. This prompt appears when there are five rooms or less for a particular room type. By default, prompt is set as 'Room'.
Keen to know more? Click here.