Marketing is no rocket science. While the general notion is that marketing can be expensive, time-consuming and hard to learn and implement, new-age tools (a lot of them even free) can help you market your property with much ease and confidence.
---
No hotel, big or small, can afford to give marketing a pass! With internet penetration at an all-time high and tech-savvy modern travellers as the target audience, you need to get smarter and quicker in rolling out your promotions.
Here's a handy list of 7 important, and easy, tools you need to create content, distribute them to your audience, engage with them and monitor your presence across channels and competition.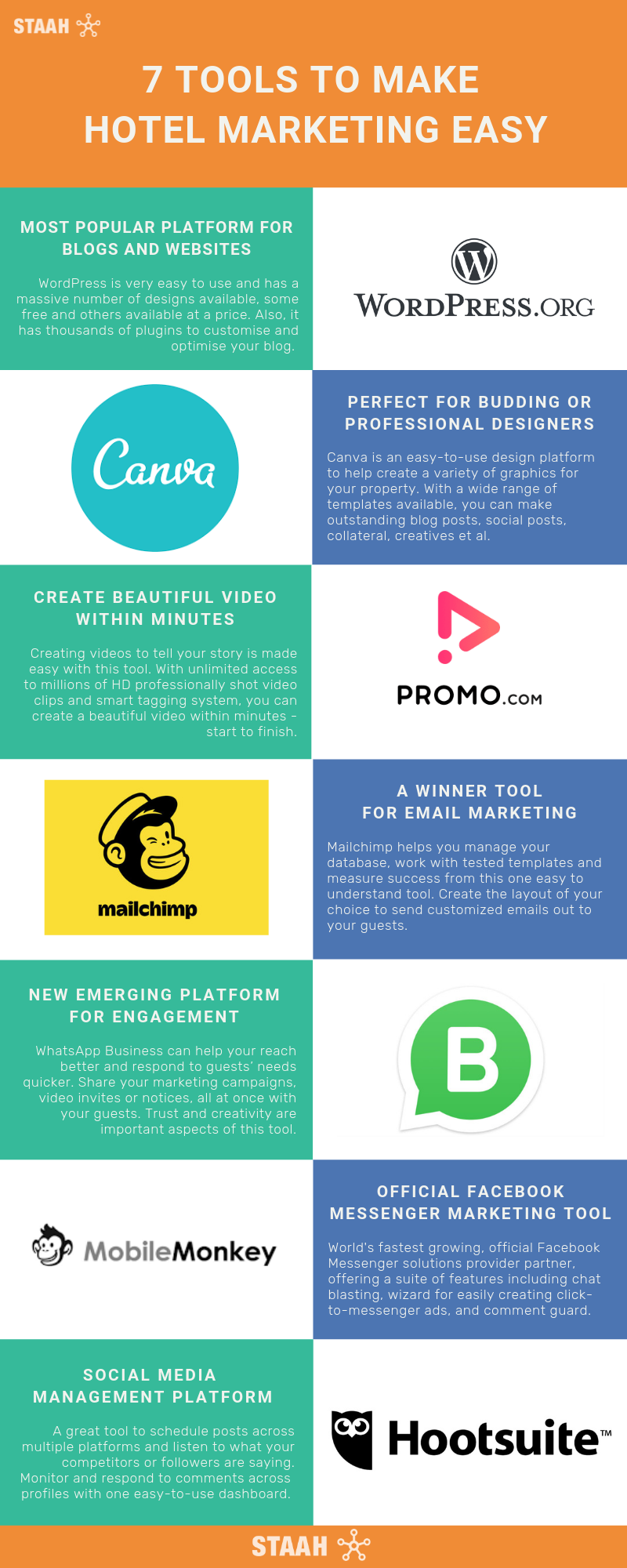 WordPress:

This open-source software is the most popular platform for blogs and websites – one in four websites are built on WordPress! A self-hosted solution, you will need to sign up with WordPress hosting providers like BlueHost, Hostgator and DreamHost. It has a massive number of designs available, some free and others available at a price. It has thousands of plugins to help you customise and optimise your blog. WordPress is very easy to use, and if you get stuck, finding another WordPress user to help is quite easy. They provide great online guides as well. Once you get on it, it's a breeze.
Canva:

Perfect for budding or professional designers, Canva is an easy-to-use design platform that allows you to create a variety of graphics for your property. Canva has a wide range of templates that will make your blog posts, social posts, collaterals, creatives … practically any design stand out. You can create logos, collage, banners, et al, for your hotel property as they have countless layouts, millions of images, filters, fonts, templates, icons, shapes and more.
Promo:

Video is at the top when it comes to content marketing. Creating videos to tell your story is made easy with this tool. With unlimited access to millions of HD professionally shot video clips and a smart tagging system, you can create a beautiful video within minutes – start to finish on Promo. The key to creating these stunners though is being able to leave aside monotonous facts about your property and discovering and showcasing the hidden gems. You just need to begin with an intriguing and entertaining idea to create fun and informative videos, like the housekeeper who dances, or the front desk manager who is an exceptional local guide!
MailChimp:

A winner by miles when it comes to email marketing, MailChimp helps you manage your database, work with tested templates and measure success from this one easy to understand tool. It offers easy drag and drops different style elements (like image cards, text blocks, and social following icons) to create the layout of your choice. So, you can customize each and every element and send customized emails out to your guests.
WhatsApp Business:

A great new emerging platform for engagement, WhatsApp business can help your reach better and respond to guests' needs quicker. Share your marketing campaigns, video invites or notices, all at once with your guests. WhatsApp is different from other platforms as it does not support ads. While the business account is available for Android users and is tied to one mobile number, which limits this platform's scope, it helps make it a very personal form of communication. Customers interact with friends on this platform, so trust and creativity are important here.
MobileMonkey:

By 2022, the chat will be responsible for savings of up to $8 billion (USD). Savings aside, the chat is well on its way to becoming the way we converse online. Plus, it's online 24/7! MobileMonkey is the world's fastest-growing, official Facebook Messenger solutions provider partner, offering a suite of features including chat blasting, a wizard for easily creating click-to-messenger ads, and a comment guard. Connect and engage easily with guests through this chat platform used by over 1.3 billion people around the world. MobileMonkey makes it easy to execute marketing campaigns without writing a line of code.
Hootsuite:

This is a great tool to schedule posts across multiple platforms and listen to what your competitors or followers are saying. When you sign up, you are essentially given a dashboard with tabs organizing all the social profiles you connect to HootSuite. This one easy-to-use dashboard makes it easy to monitor and respond to comments across pages and profiles. There is a dedicated analytics feature to help analyze marketing campaigns across all social profiles without needing to sign in to each social network individually. An added advantage is that this works well with both Google Analytics and Facebook Insights.
---
Marketing in this digital world is a mixed bag of modern tactics and new-age tools. Using an integrated marketing approach will be crucial to grow your reach and engage with your guests to build the loyalty you seek. The above tools are some of the many available in the market, which will help you to get started. Feel free to write to us at marketing@staah.com about your set of preferred tools.