STAAH has just released a new feature that will allow you to set pricing per Occupancy level.  This means you can now be even more detailed in how you structure your pricing.
---
This can be done directly within STAAH MAX and INSTANT without the need to log a support request.
STAAH Partner Booking.com suggests properties to try this new feature that can help them secure bookings.
What is Occupancy Based Pricing?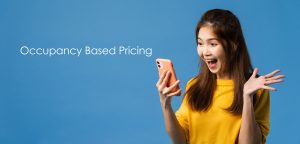 Occupancy Based Pricing allows you to maximize the occupancy rate of your most spacious and valuable (but usually hardest to book) rooms by offering a price tailored to the number of people staying in each room.
If your room can fit up to 4 people, why limit yourself to groups of 4? Through Occupancy Based Pricing, you can offer the room for groups of 3, 2, or even to a single guest by showing a different price to each group.
The same logic applies to rooms with double occupancy, triple, or more. This way, travellers will see these prices when searching for accommodations, and your properties will match multiple search criteria.
Pricing that caters to changing travel needs
We've always known travellers want great prices. They're attracted to rates that are competitive, transparent, and compelling. But flexibility has taken on new importance since the beginning of the coronavirus (COVID-19) pandemic. Booking.com is seeing both local and last-minute bookings in countries where recovery is beginning, as well as future travel planning. But travellers want to be confident that their bookings are flexible enough to adapt to changing circumstances.
How you set your rates is always your choice, but we recommend offering at least two of these three Rate Plans.
1. Early booker
Appeals to travellers who plan ahead, offering them great value. This Rate Plan helps you secure revenue far in advance.
2. Fully flexible
Offers the most flexibility for travellers whose plans may change. This is generally the most expensive Rate Plan on our platform – it's also the most booked. Our data shows that 77% of travellers want the flexibility to modify their bookings, and nearly half said being able to cancel for free is a must.
3. Non-Refundable
Popular with price-sensitive travellers, this Rate Plan generally offers lower rates than fully flexible ones but can help you secure more guaranteed bookings and revenue.
---
If you would like to learn more about the research Booking.com has released, as well as read some of their other articles, click here, or here to read about their insights on pricing.